Bee knows I'm going back to her homeland of Kyrgyzstan;
she'll be staying in the US.
I'm returning to Kyrgyzstan!
I'm leaving the US on May 9th, and arriving in Kyrgyzstan on May 11th, and I'll be there through the end of July.
The last time I was in Kyrgyzstan, I worked as an EFL teacher at
The London School in Bishkek
. (If you look closely at their website, you can see a lovely picture of me, wearing leopard print pajamas and stuffing my face.) This trip will be a little different.
The first part of my trip, several of us from Desolation Travel are meeting up for a two week jaunt around the country. We plan to start from Bishkek (the capital), then pop over to our favorite village of Kochkor. After Kochkor, we'll be popping over to the Chong Kemin area to meet with a fellow who is involved with a fellowship that's setting up English language schools in rural villages in Kyrgyzstan. Then, after passing through Bishkek, we'll be heading southward to
make our way through the nature reserve at
Sary Chelek
, the nuclear waste dumps at
Mailuu-suu
, the walnut forests of
Arslanbob
, the southern 'capital' of
Osh
, although not necessarily in that order
. After our two week whirlwind tour around the country, my travel companions will return home, and I will get to work.
I'll be spending June and July volunteering (arranged through The London School) in two different villages, where I will be teaching English. In June I will be in Kultor (which is too small to rate a link on wikipedia), located about an hour's drive south of Lake Issyk Kul (the big lake you can see on every map of Kyrgyzstan). I will
be spending July in an even smaller village called Bar-Bulak (which has the advantage of being located less than two miles from the southern shore of
Lake Issyk Kul
). Anyway, here are some graphics to illustrate pretty much everything I know about Kul-tor and Bar-Bulak, which admittedly is not very much.
A marks Bar-bulak, B marks Kultor. The black area at the top is Lake Issyk Kul.
According to Google Maps, it should take 23 minutes to drive from one to the other; however, given the state of the roads and the fact that there's a mountain range in between them, it's actually more like an hour and a half.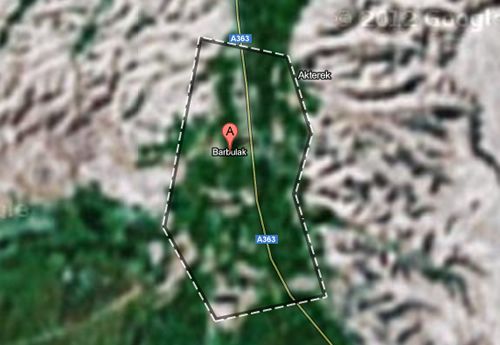 This is as resolved as Google Earth gets over Bar-bulak.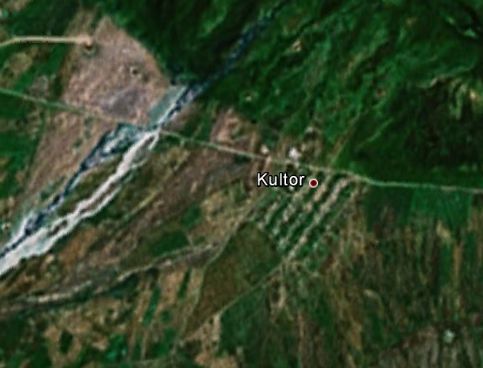 Google Earth's view of Kultor.