I'm down to exactly four weeks left in Kyrgyzstan – only three of those working – which is somewhat hard to wrap my head around. I've been vacillating back and forth between being 100% ready to go and not wanting to leave at all. But, here's the latest news of my Final Kyrgyz Month as it's been going thus far:
The pet store where I buy my super-expensive cat litter – the quality of which I have bitched about for months – was out of their "good" stuff. This meant I had to buy their really, really, really bad kitty litter. Now, if you have four cats in your two room apartment, you're going to have odors, and I'm used to that… But for all the good this new stuff is doing, the cats might as well be shitting/pissing on the floor. My apartment reeks. I'm hoping they get a new shipment of the "good" stuff soon – I'll never complain about it again!
Yesterday I went to the post office to unload some of the various things I've managed to collect. Post offices in post-Soviet countries are a lesson in patience. There was only one person available to handle international shipping, and when I was there, there were five of us who needed to ship things. Instead of helping one person until finished then moving on to the next, the poor overtaxed woman tried to deal with all of us at the same time… meaning that we were all there for a full hour. Sigh. I sent three packages, two to Florida and one to Korea; I hope they actually make it to their destinations. (M, yours is tied up in twine, which I'm sure is going to set off all sorts of security alerts!)
I recently finished two *good* books that I'd found at Fatboy's:

Stalin's Ghost

and

Berlin Noir

. They're both mysteries, and incredibly well written. Recommended for mystery lovers, or those interested in life in modern Russia or pre- and post- WWII era Germany.
My Korean student, Justin, whose house we ate at last week, is unable to study at my school this month, so I've been going to his house on Wednesday nights to tutor him. This also means I've been having wonderful company and delicious food :-) Plus, they invited me and K to their house last night for a dinner party with other friends of theirs (a man from Oregon, not far from where K lives, and his wife, whose brother went to

Sewanee

just a few years before I did!) and we had a spectacular ginseng chicken dinner, followed by some quality time around the piano.
After leaving Justin's, K and I met up with our friend N and went to a place we'd heard about but never actually been to before: Lounge Bar. Great name, huh? (Reminiscent of that other fab Kyrgyz term: VIP People.) Anyway, in case you're ever in Bishkek, it's located on the top floor of the Bowling Center across from the Circus and next to a casino. It's super pricey, but the atmosphere was fabulous: red-themed and done up in a faux middle-eastern harem style. My hair was the same color as the walls. The music was nice – and unlike most bars/cafes in this country, not so loud that you couldn't think, much less talk; instead it was at the perfect volume. The seats are couches and comfy chairs, and the tables lit by candles. Unfortunately, the service, like nearly everywhere in K-stan was crap, but we thoroughly enjoyed ourselves nonetheless. When we go back, we'll have to dress up; in our jeans and t-shirts we were seriously underdressed as everyone else there was actually dressed for cocktails.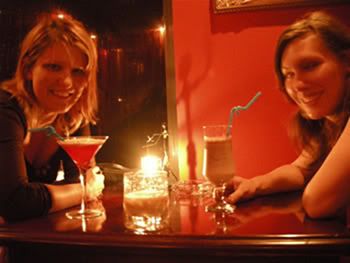 Me, blending in with the decor...
Super-awesome little candle man!