September 1, 2008
Vacations are always too short, and this one was no exception. Tomorrow we start working again... and I only have two more months here in Kyrgyzstan before starting the next stage of the adventure that is my life. I will be sad to leave Kyrgyzstan, but I am also looking forward to going home for a while. In preparation for my departure, I've acquired all the documents I need to get my four furballs back into the US, and I've gotten four adorable kitty passports from my Bishkek vet (which are needed in order to take my cats out of Kyrgyzstan.)
Aren't they cute?
Meanwhile, I had assumed that I'd be taking Heelio with me on the plane, while stowing the others in cargo... but she has grown at such an absurd rate that she is already bigger than Luball! I can't imagine how big she is going to get.
Heelio is already big enough to get to the top of the wardrobe.
When I first got her, she was too small to jump on a stool!
Also, I learned that cats have "baby teeth" just like humans. I discovered this when I found a tiny tooth on my bed and then

checked the internet

to make sure Heelio wasn't suffering from some dental disease.
I found this quite fascinating, personally.
Today was Kyrgyzstan's Independence Day. We had hoped there would be horse games at the hippodrome, but alas, no such luck. The center square was packed full of people milling about, but not much seemed to be going on. Not the most exciting end to our vacation.
Ala Too Square, Bishkek, Independence Day 2008
In other news... I mentioned the Toktogul Reservoir and how low it's become in my last post. This is a problem for Kyrgyzstan as the country functions on something like 95% hydroelectric power. The Toktogul has been depleted partly due to over-use last winter when the country sucked down more electricity than ever before in our record cold winter, and partly due to the fact that a large percentage of Toktogul's water has been sold to Uzbekistan. Recently, the Kyrgyz president sold several hydroelectric power plants and the rights to their reservoirs to Kazakhstan! Check out the following pictures of the Orto-Tokoy Reservoir (near Kochkor), in the spring and then in the summer, following the sale to Kazakhstan. Meanwhile, rolling blackouts have started again with a vengeance.
Orto-Tokoy Reservoir in March 2008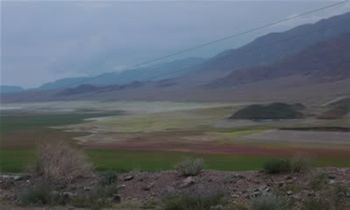 Same place in Orto-Tokoy Reservoir, August 2008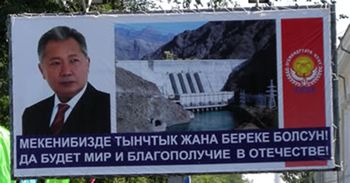 And, irony of ironies, this sign appeared today in the center of Bishkek.
It reads, in both Kyrgyz and Russian:
Yes, there will be peace and success in our fatherland!
And it's president Bakiyev next to a hydroelectric dam.