July 2, 2008
Today I walked to the Central Post Office and back - 30 minutes one way along Sovietskaya, the main north-south road through Bishkek. It was burning hot, but a gorgeous day. Of course, I took some photos... and here they are:
Many waterless fountain fish, gasping for air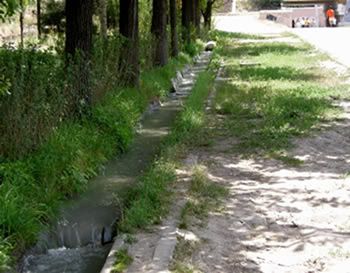 It's not an open sewer... but it's not exactly clean water either.
Starting last month, the previously bone-dry ditches along every road in the city began to flow with water of dubious quality.
This building has always intrigued me, although I'd never photographed it before. It's not really in a decent place for getting full shots of it. It's currently a sports center, but I wonder what it was originally...
Meanwhile, this is NOT fabulous:
I took one look at this sign (they're all over town) and every fibre of my body screamed "SCAM!" He claims to be a millionaire representing the International Academy of Financial Success, and he's here to teach the Kyrgyz how to become millionaires. You know, for a fee.
I wouldn't trust this man as far as I could throw him, and we all know that ain't far! Plus, he apparently

got arrested trying to sneak into Russia from Ukraine

with forged papers

.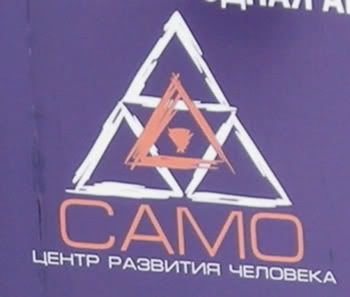 And the logo here just screams "pyramid scam" to me.