I leave for Kyrgyzstan in less than a week - meaning that I am totally packed and ready to go right now. I am an obsessive packer and re-packer (at least when I'm getting ready to go somewhere exciting), and I've been working on my packing list for some time now. I may have had some items in the suitcase for over a month or so at this point. :-)
I'm flying in on Turkish Airlines. As you may remember, I took Turkish Airlines the last time I flew to Kyrgyzstan - which was all well and good until they lost one of my suitcases and took over a week to get it to me. Now, if I'm moving somewhere, and am therefore traveling with two ginormous suitcases full of everything I could possibly need (and will be living close to the airport), being out one suitcase for more than a week isn't the end of the world. When I'm only planning on bringing one bag and when I'm planning on spending the first two weeks in-country traveling all over the place (ie, nowhere near the airport), if my bag doesn't arrive with me, this would be pretty problematic. As such, I've decided to bring only a carry-on. Plus my camera backpack as my "personal item." I'm kind of stretching things a bit, and I am seriously hoping I don't get forced to check anything, but in theory I should be OK. I should also mention that while I'm going to be racing around the country for the first two weeks, I'll be spending the following nine weeks being relatively sedentary, living out in the boonies, and teaching English. As such, I have to pack work-acceptable clothing and some teaching materials as well.
I'll update you when I get back on how the whole carry-on thing worked, as well as on what I forgot/wished I'd brought/wished I'd left at home/etc. But for now, here's what I'm packing: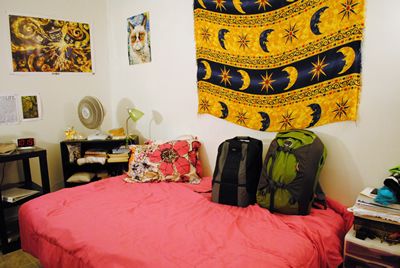 This shot is for scale, so you can see the size of my two bags relative to my full-sized bed.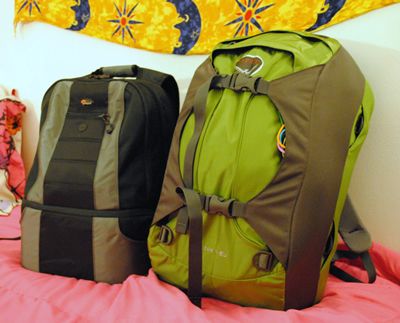 The bag on the left is a camera/laptop bag, the CompuDayPack by Lowepro. I'm actually not bringing my laptop on this trip, but this is a great DSLR + other stuff backpack and I love it. The bag on the right is the Osprey Porter 46, which I bought after reading this review. Supposedly it works as a carry-on. We'll see. I plan on checking it on my way home, but I really want it on board with me on my way there.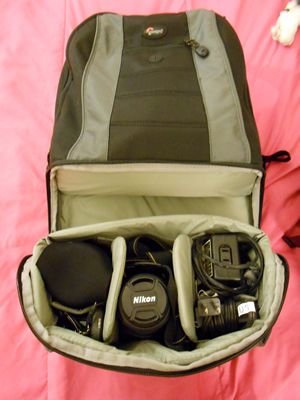 The bottom half of the CompuDayPack is a camera bag, home to my DSLR, extra lens, power converter, and various chargers.
The top-front portion is pretty much a typical backpack - good for travel papers, face-wipes, my point-n-shoot, my glasses, memory cards, and the annoying ziploc baggie of allowed toiletries.
Point-n-shoot.
Spare pair of glasses, prescription sunglasses
Lots of memory!
I'm obsessed with the kind of facewash I use. I've used it since I was 16 or so. Sadly, it's not TSA carry-on compliant, so I'm bringing this stuff instead. Not sure how I feel about this.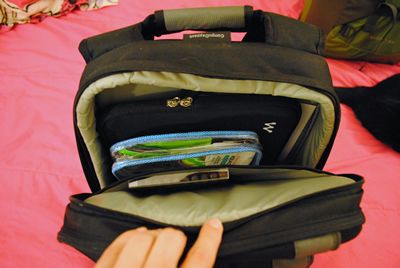 The space that's supposed to be for a laptop is pretty good for storing various other stuff.
There's the ubiquitous ziploc baggie of toiletries.
And this is the other stuff located in the laptop compartment: non-liquid toiletrees (bandaids, pain patches, etc), pens, guidebook, Kindle, notebooks, and teaching materials.
This bag will also be home to my umbrella, passport and travel documents, and my ipod.
Now let's take a look at the other bag:
The top pocket is really small. I'm using it for some of my OTC meds.
NyQuil, DayQuil, and Pepto
If this trip is anything like my last one, that probably isn't enough Pepto.
I love the fact that it's a top-loader.
Large purse and mini-backpack.
White-board markers and spare batteries. (I mentioned that I'll be teaching, right?)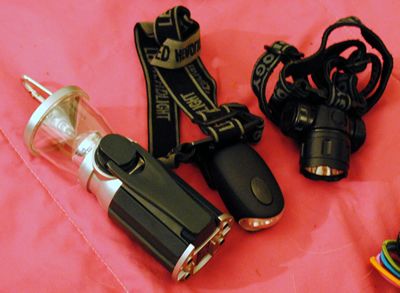 Lighting. Electricity wasn't the most reliable the last time I was there; I plan on being prepared. Wind-up lantern, wind-up headlamp, battery powered headlamp. I wrote a whole post on these gadgets a while back over on my other blog.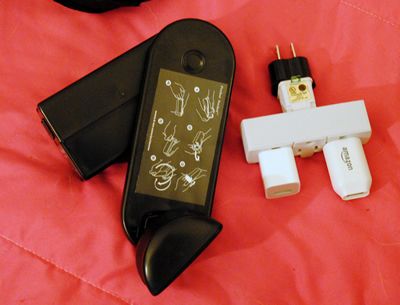 Hand-crank generator (in case I desperately need to charge my camera batteries) and power-strip with USB adapters for charging various things when I *do* have electricity. It plugs into my power converter. (I really only want use the hand-crank in emergency situations because it takes forever to charge anything. Dead camera batteries would, however, constitute an emergency.)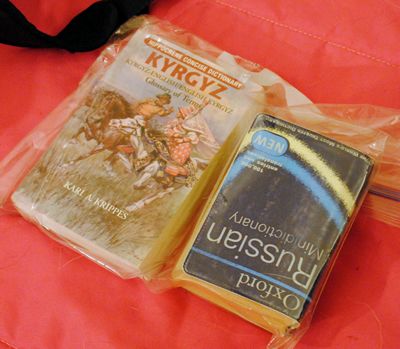 Dictionaries!
Photos. I am a huge believer of using photographs when teaching English.
I also think that Ziploc baggies are incredibly useful things to bring when you travel. Great for snacks, great for using in the classroom, great for waterproofing your stuff - and hard to find when you're in K-stan.
A good пакет (plastic bag) is an essential item for traveling in the FSU, thus the inclusion of the blue Aldi bag. I promise that the bathing suit actually looks awesome on me - although it looks awful on the bed like that. (I know I'll be swimming in Issyk-Kul!) The orange thing is a sarong. Great for the beach, can double as a towel or skirt or dress....
Sea-to-Summit DryLite MicroTowel and body scrubber thing.
This towel is more like a chamois for your body than a towel, but it takes up very little space, and it dries quickly.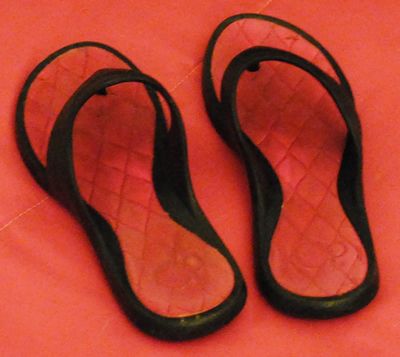 I should mention that I'm not really bringing shoes. I'm bringing flip flops and Tevas. In case of a cold snap, I'm bringing a few pairs of socks and will be one of those people committing the fashion faux pas of wearing Tevas with socks. Seriously, I don't have room for shoes and lots of socks.
More OTC meds.
More OTC meds, dry bodywash, and enough birth control to skip my period for three months. Seriously, I am not dealing with that while I am living in rural Kyrgyzstan.
Clothing pic 1: two sun dresses, a long black skirt, two light-weight sweaters, two dress shirts (can be worn over the dresses), five t-shirts (can be worn over the dresses), jeans, and sleepwear consisting of shorts, cotton pants, and a t-shirt.
Clothing pic 2: two more sundresses, jeans, thick leggings
Clothing pic 3: two headscarves, six pairs of undies, two pairs of socks.
Alarm clock and razors.
Mini white-board. That's my lens cap next to it for scale.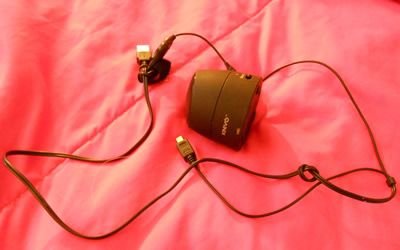 Portable speaker by Kinivo - battery powered and rechargeable, although the batteries on these babies last a long time. I'm also a huge believer of using music in the classroom, so a speaker to attach to my ipod is an absolute must.
Lastly, this is what I'm wearing on the plane:
Jeans, blouse (which matches the packed sundresses), warm sweater, and Tevas. (They're the Teva Women's Kokomo - really comfortable and sturdy, and can pass as dressy if need be.)
Additional items not included on the original list: Imodium, umbrella, knee braces, earrings, hairties