The first "day" of my trip spanned three dates (May 9-11) and roughly 43 hours (and for those of you who know my obsession with the number 43, not, I am not making that up). Thirty or so hours were spent in the tedious process of traveling from Orlando to New York to Istanbul to Bishkek. The trip wasn't bad, although like any such lengthy trip, it wasn't great either. I had a boring 5 hour layover in New York's JFK (Terminal One of which seems to have been the design basis for Seoul's ICN), followed by a ten hour flight in the middle seat next to a Bangladeshi fellow who was quite intent on sleeping on my shoulder. I'm not talking about the person who falls asleep and then topples over onto the person next to them whilst unconscious; this fellow actually said, "Can I sleep on you?" and then when I said no, proceeded to do it anyway. Grrrrr. I got very little sleep on the way to Istanbul as a result of this guy, but given how much I was fidgeting in my seat, I don't think he slept much either. Hah.
In Istanbul I met up with B., and we obnoxiously cackled our way around the airport for about four hours before our flight left for Bishkek. (This included an incident in which B. became convinced that a flight departing for Mongolia with a layover in Bishkek – and which departed about 2.5 hours prior to our flight – was actually our flight. He even talked me into trying to board with him. The woman at the gate stamped his boarding pass before actually looking at it, and then telling him that this was a completely different flight and that ours left in 2.5 hours. Hah. Told you!) I was actually able to sleep on the flight to Bishkek, so I wasn't completely dead to the world when we arrived at the Manas International Airport outside Bishkek at 5am local time on May 11th.
I had to pay $70 (USD) for my student visa (yes, I was traveling under a student visa, even though I would actually be teaching, albeit as a volunteer) – this $70 fee was annoying as the tourist visa is free upon arrival, and since I had not been informed of this fee in advance. Luckily I had the cash I needed on me and was able to replace the "lost" $70 via an ATM in downtown Bishkek. I needed the "student" visa because I was planning to stay in Kyrgyzstan for two and a half months, and the tourist visa was only good for two months. While the initial student visa is only good for one month, it can be extended, while the tourist visa cannot be.
B and I met up with N and A who had arrived about an hour before us. We then hopped into our pre-arranged taxi (arranged through our hostel) and headed for said hostel – Sakura, located just outside the center of Bishkek, not far from the circus and the Hyatt. Check-in time at the hostel wasn't until 11am, and we got there at 6am. Sigh. Luckily there was an incredibly adorable cat to play with. Eventually the owner awoke and let us put our bags up, although our beds were not yet ready. At that point we headed to Fatboy's for breakfast.
On the surface, Bishkek seems nearly completely unchanged from 2008. Walking along Sovietskaya and Chuy, we felt as though we'd either never left or had stepped back in time five years. There were quite a few small, superficial changes, but overall nothing that stood out as a huge, fundamental change. Among the superficial changes we noted on our very first day back in the Motherland was the remodel of the interior of Fatboy's. The menu was essentially the same, and the free selection of suspect reading material remained, but with the completely new remodel it was almost like being in a new (and not necessarily better) establishment. (In my opinion it was much cozier before.)
After breakfast, we strolled around the center of town. One main superficial change we noted was the replacement of the Erkendik (freedom) statue in Ala Too Square (which had been of a fantastical woman holding a tunduk – the top part of a yurt and the national symbol of Kyrgyzstan) with Manas (the legendary Kyrgyz hero), or as N put it, "trading freedom for nationalism." The other was the addition of a new monument to the overthrow of Bakiev in the 2010 revolution. This monument is located next to the Kyrgyz White House. We also photographed Lenin (still lurking behind the State Historical Museum), then wandered over to Panfilov Park, taking pictures of creepy rides and riding the creaky ferris wheel. At that point we headed back to the hostel to check in and freshen up… then it was off to The London School.
Ala Too Square with the new Manas statue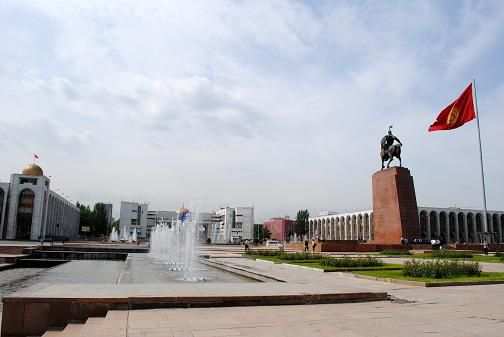 Ala Too Square looking the other direction
One of the creepy rides in Panfilov Park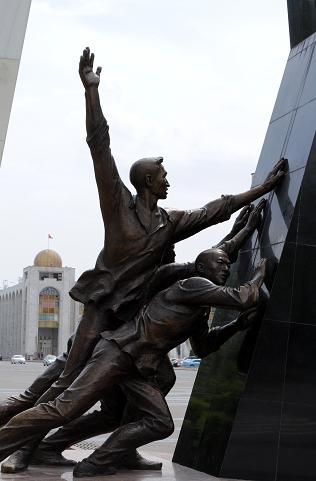 The new monument to the 2010 Revolution
The London School has definitely changed a LOT in the past five years, although it remained quite similar nonetheless. The biggest difference was that it is now three stories (whereas five years ago it was only a two-story building – in my opinion this cannot be a good structural decision in a place prone to shoddy construction and earthquakes!) and it now has a huge office and reception area which filled half of the courtyard. Additionally, several of the old teachers' apartments (including mine and B's) are now classrooms. My old classroom, in contrast, is now the TLS teachers' lounge. Most (perhaps all?) of the teachers live in a house off-site, and the remaining bedrooms where we all used to live are rented to foreign students who have come to TLS to study Russian or Kyrgyz.
We were very excited to discover that the tradition of keeping not entirely illicit cats at TLS continues (the staff continues to turn a blind eye). We met one of the resident cats, and of course played with it and held it for pictures while the security guard looked on in bemusement.
B, me, and N pose with a cat in front of our old rooms
After I had signed my volunteering contract and given TLS a copy of my passport and visa (so that they could begin the visa extension process) we went over to the VEFA center for the purpose of checking out the new (since 2008 anyway) Georgian restaurant located there. It turned out to occupy the expensive spot on the rooftop which can only be reached by taking the back elevator to the fourth floor then following a convoluted route of unmarked passages. We ate khachapuri adjarski (my favorite dish) as well as various salads. It was all quite delicious, although not as good as Mimino in Kiev (or actual food in Georgia I suspect, although I have yet to make it there).
We then strolled through the grocery store on the first floor – no longer Ramstor, it is now Plus Market, where I picked up my "traditional" Kyrgyz snacks of Twix and chechil. Then we headed down Gorkova to the CBT office to confirm our homestay reservations for Kochkor and Arslanbob. CBT stands for Community Based Tourism, and this is without a doubt my favorite organization in Kyrgyzstan. They are incredibly well organized, very helpful, offer reasonably priced services, and something like 90% of the money they charge goes directly to the community members providing the various services (homestays, horse treks, transport, etc.).
At that point, I seriously felt like I was about to pass out from exhaustion – I was literally having trouble putting one foot in front of the other. We returned to the hostel, where I showered, then crawled into bed and slept for ten straight hours.