Today it was N's turn to become violently ill. Unfortunately, it was also a somewhat lengthy travel day. Luckily our driver – arranged through Hayat – was the fellow who had driven us to Jalalabad two days before. He was an excellent driver, and didn't do anything to increase N's illness (other than periodically trying to get her to eat things). He came and picked us up outside our door and drove us 4.5 hours to a lovely CBT homestay in the mountains near Sary Chelek, in the village of Arkyt.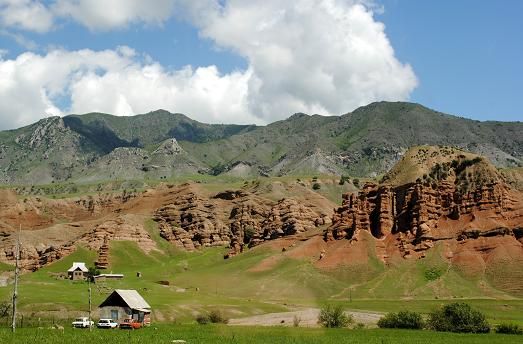 From the road on the way to Sary Chelek
From the road on the way to Sary Chelek
Poppies from the road on the way to Sary Chelek
After a small lunch of fresh bread with fresh butter, sour cream, and jam accompanied by cucumbers and tea (and eaten next to a vat of boiling sheep-head), we were ready to go to Lake Sary Chelek, located 18km from our homestay and the reason for our visit to this corner of the country. Unfortunately, the homestay folks told us that cars weren't allowed in the park after 2pm, and it was 2:30pm. This may or may not have been true, but we were able to get in by only paying a meager bribe on top of the entrance fee. (You can go on foot, but I wouldn't recommend it unless you are very fit and have a long time. The drive to the top took about an hour, as it was very steep and winding; it would be a very long and strenuous hike.)
Told you there was a boiling sheep's head.
The road to the lake was narrow, unpaved, and wound its way high up into the mountains to its end-point at Lake Sary Chelek, a gorgeous blue lake ringed by super-high, spectacular mountains. It was, without a doubt, the prettiest lake that I have ever seen in real life. We explored the shore line and took copious amounts of photos. B and A went swimming, although after sticking my toes in the water I decided that no way in hell was I going to ruin a perfect day by submerging myself in such frigid water.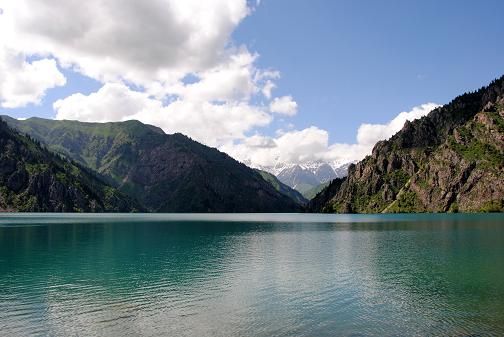 Lake Sary Chelek
Me, B, N, and A at Sary Chelek
Me at Sary Chelek
B swimming in his undies. We've seen this before.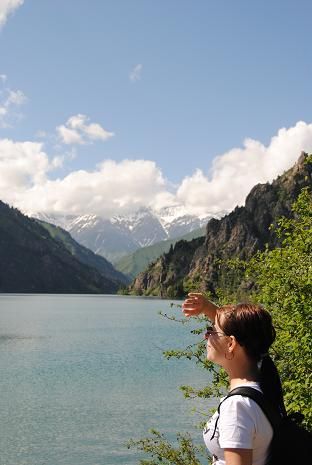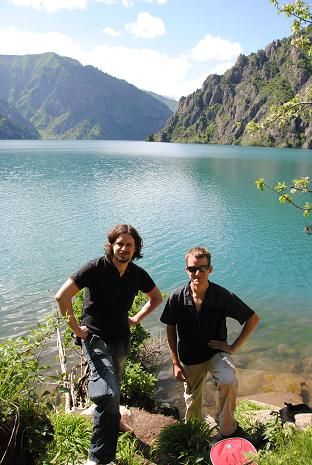 A and B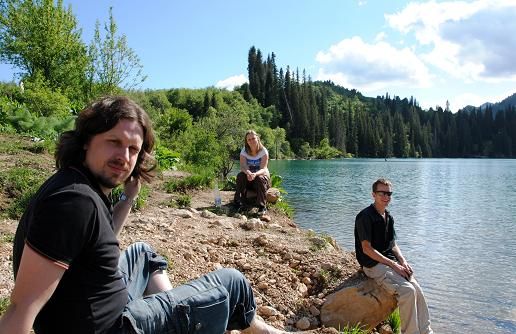 Obligatory band photo. Of our non-band.
N still wasn't feeling well, so she relaxed near the dacha (where one can camp for a fee if so inclined, although you'd definitely have to pack in all of your supplies) while B, A, and I walked along the northern edge of the lake as far as the rudimentary "trail" permitted. The "trail" wound through a lovely forest on the edge of the lake, in which numerous orange, yellow, and purple flowers bloomed. It was incredibly beautiful and peaceful.
Me :-)
To see the complete set of photos from Sary Chelek, CLICK HERE.