This morning I awoke quite early, as I had to be at the London School with all of my possessions (which have grown to include a computer, a shyrdak, and a bucket). The taxi driver who drove me to the London School wanted to know where I was from, how old I was, if I was married, if I was a lesbian, if I had a boyfriend, and if I was a virgin. In that order. Great. Welcome to Kyrgyzstan.
I met the London School's director and her driver at the school and we set off for Toguz-Bulak. We only stopped once along the way, at the rest area at Kholodnie Vodi – not much there other than some kiosks selling snacks, and of course a cold water spring from whence the tiny village gets its name. There was also an incredibly sweet little black dog there. If I had been in my own transport (and going to my own home), I would have taken her with me. I felt pretty terrible leaving her behind.
When we arrived at the village of Toguz-Bulak, our first stop was the Myrzamambetov Public School, where my classes would be held. All of the school's students and teachers – and apparently a couple of parents – had turned up to meet me and to listen to the London School's director give a presentation on who I was and why I had come to their village. From the exterior, it was obvious that the school was of fairly new construction, but the interior was dimly lit and frigid, despite the warm, sunny day outside. I grew chilled as the director gave her presentation. Her presentation was entirely in Kyrgyz – a language in which I can only speak a few words – so I don't know everything that was said. I do know that she included things like:
Don't ask the American for money. Just because she is a foreigner does not mean that she is wealthy. She is a graduate school student and is poor.
Americans smile a lot. This does not mean that they are crazy or that they want to date you. This is just their way of being polite.
If you wish to do anything with the American, please schedule it with her in advance – don't spring it on her at the last minute.
Please be punctual. Americans value punctuality.
(While no one asked me for money while I was in Toguz Bulak, I'm pretty sure most people didn't pay any attention to any of the other 'tips' for dealing with The American.)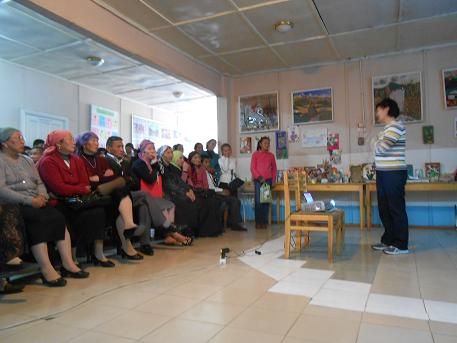 The Director of The London School gives her presentation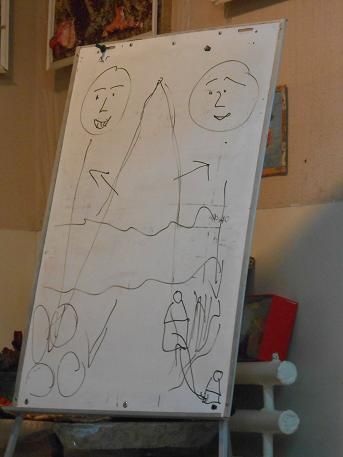 The person on the left is a Smiling American
By the time the presentation had finished, I was feeling thoroughly chilled inside the dark school-building, and was looking forward to returning to the warm outdoors. Alas: during the time of the presentation, the sky had clouded up, and the outdoors had grown rather chilly. I found myself thinking how glad I was that I'd brought fleece-lined leggings to accompany my sundresses!
We left the school and headed towards my host family's house on the northern edge of the village. They live in a brand-new, two-story house (it was just completed this past November), yet as is true in many Kyrgyz villages, they had no indoor plumbing to speak of. Yes, ladies and gentlemen, a brand-new, two-story house with a pit squatter out back. And a yurt set up in the yard.
I met the family who were to be my hosts for the next month: Rakhat and her husband Altynbek, and their three children Nursultan (14), Nuraika (10) and Nurel (2.5). Rakhat teaches at the Myrzamambetov Public School as well – she is a teacher of chemistry and biology. Her husband is a farmer (they raise mostly sheep, but also some cattle, goats, and chickens) as well as the regional deputy who represents the three villages in the valley. We ate plov accompanied by boorsook and jam and copious quantities of tea, and then the London School's director left.
At that point I was feeling pretty exhausted and in need of a nap.
Two hours later, I awoke feeling refreshed and ready to explore my surroundings. I spent a little bit of time watching my hosts plow a small field, using a horse drawn plow. The horse was very compliant. I can just imagine the negative reaction if I attached a plow to the back of either of my horses in the US! They were plowing the field in preparation for planting wheat to feed their animals come wintertime.
After spending a little bit of time watching my hosts plow, I decided to go for a walk around the tiny and remote village. Toguz-Bulak is tiny – the size of many neighborhoods in the US – and very desolate: wide dirt streets, small cottages (many in various states of disrepair, although several even nicer than my hosts' home, and all with pit toilets), livestock roaming free, and in the middle of a wide valley, lined on both the north and the south by tall mountains. From the western edge of the village, I could see two other villages of comparable size: Kul-Tor (where I was initially supposed to go) and one other village.
Unfortunately, I managed to encounter not one but two Creepy Dudes, both in their forties, both quite drunk, and both way too interested in me. The second one actually followed me to my door. Unluckily for me, he turned out to be a childhood friend of Altynbek, and as such was invited in for tea. Aaaargh. Luckily, Rakhat and Altynbek only kept the drunk fellow around just long enough to be polite, then very forcefully sent him on his way. After he left, Rakhat said, "He's actually a decent guy when he's sober, but…" Yeah. I am all too familiar with that type, and let me tell you how not interested I am! I decided at that point to invent a fictional boyfriend to start telling people about. Toguz-Bulak is a small enough place that "fact" of whether or not I was single would probably spread very quickly.
After dinner, I sat down to plan my lesson for the following day. I knew that I would have three groups: high school, middle school, and elementary. What I didn't know was what levels of English skills the students would have or whether or not any of them would speak Russian. I also didn't know if the school had any materials available for me to use, or if the students even had textbooks. As such, I planned a lesson that was really simple: a personal introduction (including photos from home of my family, my house, and my pets), some basic vocabulary (translated into both Russian and Kyrgyz) and the song Hello, Goodbye by The Beatles. We'll see how it goes!