After a breakfast at Fatboy's and taking photos of a mama dog and her adorable puppies sadly living in a storm drain, we gathered up our things and set off to find a taxi to Osh. This is where our troubles started.
Sad dogs? Best part of the day.
Our first taxi driver was supposed to take us to Osh Bazaar, the place where one goes to arrange taxis to Osh. However, he said that he didn't understand why tourists always got taxis from Osh Bazaar when it was better to get them from the Eastern Bus Station. We foolishly allowed him to convince us to go to the bus station instead of the bazaar. At the bus station we negotiated a taxi – towards the upper end of the expected price range, but still within the range we had been quoted by CBT. That taxi driver was quite friendly, and as we set out he told us that he quite often drives one particular American fellow (David Stewart from Las Vegas, whom he was quite disappointed we didn't know) to Osh and various other places. Had we actually ridden with this fellow things probably would have been fine.
Unfortunately, after we'd driven about ten minutes from the bus station, the driver stopped the car and said he had to go and tell his wife that he was going to Osh. He was gone for about 15 minutes. When he came back, he had an older man with him. He told us that actually we would be riding to Osh with this man and in his car – instead of with him – but for the same price that we had already negotiated. Um, ok. We figured that perhaps his wife, fed up with whatever shenanigans David Stewart had gotten him into, had told him something along the lines of 'No way in hell are you popping off to Osh with a group of foreigners.' Who knows.
We got into the other car, a Toyota station wagon. While the first driver had been quite talkative, this fellow did not say anything to us at all. The first part of the drive (from Bishkek to the tunnel through the pass at the top of the Susamir mountains) went fairly quickly, although the driver was on the phone with someone just about every five minutes, and speaking in Kyrgyz so we weren't able to determine the nature of these frequent calls. I wondered if perhaps he was checking in with his wife or something.
The tunnel at the top of the pass is fairly long and not ventilated. Drivers must roll up their windows to prevent themselves from being poisoned from the exhaust fans of other vehicles. If livestock are being herded through the pass (and through the tunnel) the tunnel must be closed to motorized traffic in order to allow them to pass through safely. We arrived at the mouth of the tunnel, and then had to wait at least 45 minutes while horses, cows, and sheep were herded through.
Despite being at the top of a snowy mountain pass it was hot and uncomfortable – and when you're doing a 10 hour drive, 45 minute delays are not welcome. Also, by this time B, whose stomach had been feeling off in the morning, was starting to feel quite sick. Eventually we were allowed through the tunnel, and then had to navigate past/through the livestock that had just been herded through the tunnel as we wound our way down into the Susamir valley below.
When we reached the valley, we pulled into a gas station… at which point things began to get very strange. While we were filling up, a Mercedes crammed full of people (a man, two women, and several children) pulled in next to us, and its driver and our driver exchanged fist-shaking gestures, although we couldn't determine if these were angry/rude gestures, or if they were done in jest. Also, after reaching the gas station, our driver no longer felt the need to be on the phone every five minutes. We set out from the gas station down the long, flat valley. This was the part of the drive that normal drivers use to make up the time they lost on the narrow, winding mountain roads, and most vehicles drive this stretch as quickly as they can. However, instead of speeding (as our driver had done throughout the winding mountain roads) our driver crawled along at speeds of 30-40kph. WTF? Narrow, winding roads, crazy high speeds; long, flat, safe stretch, 30-40kph.
Eventually he pulled over to the side of the road, and we realized that the Mercedes from the gas station had pulled over behind us and popped its hood. It became clear that the drivers not only knew each other, but that they knew each other quite well. It was also clear that the Mercedes was having some sort of engine and/or transmission problem. It was billowing black smoke from its tailpipe and from what I could gather from communication between the two drivers, it could not go any higher than third gear. Keep in mind that our driver was still essentially pretending that he did not have a car full of foreigners, as he just pretended that we didn't exist, so we were left trying to piece together the mystery of this Mercedes.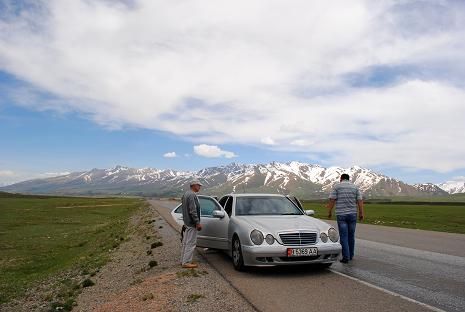 Two assholes and a Mercedes
We got back into our respective cars and poked along at 40-50kph all the way to the rest-stop area at the beginning of the next mountainous section. This should have been a 30-40 minute drive, but it took us two hours. When we got to the rest area, we realized that we had been traveling for five hours and had barely made it a third of the way! At that rate, we wouldn't be arriving in Osh until some time around 2am, without anywhere arranged to stay the night. (We had expected to get in around 7-8pm, when it was still daylight and when people in hotel lobbies were still awake.) At that point, poor B had become violently ill with the Kyrgyz Stomach Bug. He sat in the bushes near the river, being ill, while N, A and I ate.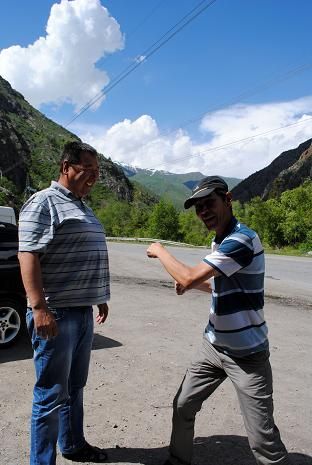 Our "driver" (left) and his Mercedes-driving friend
From watching the interactions of our driver and the people in the other car, it seemed that the other car held our driver's wife and children in addition to the wife and children of the driver of the Mercedes. It seemed that instead of a professional taxi driver, we were simply funding the vacation of the two drivers and their families. This wouldn't have been a problem if he'd been a good driver, but the extra several hours that his slow crawl so that the Mercedes could keep up had added to our trip was really starting to piss us off. We decided that since we really didn't want to get into Osh after midnight, we would get out of the taxi at Jalalabad instead. We told the driver, who did not seem to mind.
When we got back into the car, the Mercedes was long gone. Apparently whatever problem it had been having had been repaired. This was when things got really horrific. Our driver felt the need to first catch up with and then keep pace with the Mercedes. Now I drive a Toyota, and I love my Toyota – but I know that there is no way in hell it can handle as good as a Mercedes. Unfortunately, our driver seemed to have no qualms when it came to attempting to out-perform a now fully-functional Mercedes on narrow, winding mountain roads. First he raced at 120-140kmh to catch up with the Mercedes, and then for the rest of our ride they jockeyed with one another for the lead position.
Now this was far from our first rodeo. We'd all taxied all over Kyrgyzstan before, including from Bishkek to Osh and back. We were used to the insane driving habits of the average Kyrgyz taxi driver. Flying around curves at insane speeds? Passing uphill on a blind curve? No problem! That kind of thing is par for the course around here. But never before had I felt that my driver was completely incompetent. The professional taxi drivers who make this trip multiple times a week know these roads like the backs of their hands. They know when it's reasonably safe to do what. And it was clear that this guy had no freakin' clue. Never before had any of us been so absolutely terrified in a car in Kyrgyzstan. I was hanging onto the oh-shit handle for dear life, saying nophysicalharmnophysicalharmnophysicalharm over and over with a few SWEETMARYMOTHEROFCHRISTs thrown in as we squealed through fucking hand-brake turns, tires and brakes screaming as the car flew perilously close to sheer drop-offs atop the Naryn River reservoirs.
Eventually, after we'd wound our way through the most dangerous part of the driver, the cars stopped at another rest-stop area – and the drivers suggested in complete seriousness that we all have some vodka. They said that it was OK for them to drink now, since the most dangerous part of the drive was over. We flatly told them no. I went off and puked, having become quite car-sick, and N and I decided that if they had anything alcoholic to drink whatsoever, we weren't leaving the rest area, no matter the lack of transport. They were insane enough sober. Luckily they decided not to imbibe.
After getting back in the car, we decided to call CBT to see if we could arrange to stay in Arslanbob instead, as it was even closer to us than Jalalabad. Luckily N and A were healthy enough to deal with phones and maps and such, as I was car-sick and B was incredibly sick. CBT, of course, is wonderful, and we were able to arrange a homestay in Arslanbob (we had one reserved, but starting from the following evening) as well as transport from Bazar-Korgon. We had our driver drop us in Bazar-Korgon (where the asshole tried to overcharge us, despite the fact that we were paying the full trip-to-Osh rate despite having only gone 2/3 of the distance).
After removing ourselves from our "taxi" in Bazar-Korgon at around 9pm, we called CBT to let them know we had arrived, at which point we had to wait about 45 minutes for our car to Arslanbob to arrive. During this time B continued to be violently ill – although the only "toilet" nearby was an abandoned building in which people shat on the floor. N and I were both feeling queasy, and we were all relieved that our driver from Bazar-Korgon to Arslanbob was highly competent – and even more relieved to arrive at our wonderful CBT homestay.