My last full day in Bishkek was incredibly busy – and this was complicated by the fact that the good ol' Kyrgyz Stomach Bug had reared its ugly head again. God knows how I managed to accomplish everything I did.
The day began with my 10am meeting with the director of the London School. I have to admit that I had expected the meeting to be rather pointless, and was therefore annoyed by the extra two days' delay. It actually wasn't pointless. I learned that I would not be going to Kul-Tor after all, because the school's director/my potential host family had tried to bargain for more money from the London School to cover the costs of hosting me. The London School apparently felt that the Kul-Tor folks weren't sufficiently grateful to be receiving a volunteer, and as such decided to send me to a neighboring village instead. As such, I learned that I would be spending the month of June in the village of Toguz Bulak instead of in Kul-tor. (Toguz Bulak is located just to the east of Kul-tor.) I would still be spending the month of July in Bar Bulak as planned.
This is as resolved as Google Earth gets over Toguz Bulak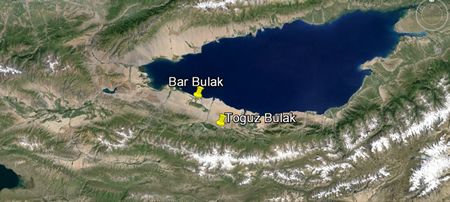 Toguz Bulak and Bar Bulak, relative to each other and to Lake Issyk Kul
The director then told me that if I had any problems whatsoever while in Toguz Bulak to call her or email her immediately… so I asked the obvious question: "Will there be internet access in Toguz Bulak?" She looked confused and said that I could just access the internet on my phone. Hah! I pulled out my phone – the absolute bottom-of-the-line Nokia that was sold in Bishkek back in 2008. She took one look at my phone and totally cracked up. She then told me to come back at 5pm and the school's IT staff would have an external flash drive modem to install on "my" computer.
I also asked about my stipend, as I'm supposed to be receiving roughly $100 in som/month. Apparently they now give their volunteers their stipends at the end of each month, after having had a volunteer spend a week in the village then take the money and run. While this kind of defeats the purpose of the stipend, I had budgeted enough to cover any village-related expenses I might have, so this wasn't a problem.
After leaving the London School, I walked back to the hostel as the weather was absolutely perfect, taking photos along the way. I returned to the hostel, did a bit more laundry, and once again re-packed all of my things – which now included both a laptop and a shyrdak. Luckily I was able to roll up the shyrdak and strap it to the outside of my large backpack.
Then I went off in search of RH, a German who lives and works in Bishkek who is also one of my facebook contacts – having found me through my original (and now defunct) blog, the Kyrgyz-related contents of which have mostly been reposted here. His office was located in an extremely out of the way place (off a series of roads off Manas, south of Gorkova). I had the surreal experience of having my taxi driver pull into a
милиция
station and ask the police for directions! Talk about something that would never have happened five years ago. RH was an interesting fellow who has opened a business doing outsourcing work for German companies with local Bishkek staff. We had quite an interesting chat – and then I had to dash back into town to get "my" laptop, then back out to the London School. If I had planned better, I would have brought my laptop with me when I went looking for RH – then I would have just had an easy ride along Gorkova to the London School. As it was, I had to run all over the damn place. Ahh well, live and learn.
The London School folks installed the software for a flash drive modem onto the laptop, and provided me with SIM cards for both Beeline and MegaCom, so that I could use whichever had the best signal out in Toguz Bulak. (Assuming either had a signal, haha.) This is a pre-paid internet access system, which charges 1.5soms per megabyte. This means that if I don't want to spend a fortune, I can't do things with lots of graphics or download any audio or video. Of course, I probably won't have a strong enough signal for downloading graphics, audio, or video!
After getting the modem installed, I once again raced back to the hostel – this time to get ready for dinner with J, my Korean former student from five years ago, and his family. Unfortunately, by that point I was feeling quite ill, and my various taxi rides all across the city had done little to settle my stomach. However, it was too late to cancel, as J and his dad were on their way to pick me up.
I was actually quite worried that I might become violently ill while in the middle of dinner – which would have been horrible. I warned them that I was ill, and they were very understanding. Amazingly, kimchi (of all things!) totally settled my stomach, and it did so pretty much immediately on contact. That stuff really is a miracle drug! We ate samgyetang (a chicken in ginseng soup), kimchi, a Russian-style salad, and a Vietnamese dish. Dinners at their home are always a wonderful hybrid, and exceptionally delicious. J and his family were as wonderful as ever, and I always love having the opportunity to spend time with them. And by the time I returned home, I felt perfectly healthy. Go, go kimchi power!