Today was the beginning of final exams for the graduating seniors. Various exams will be held on different days throughout the next few weeks. About half of my first class consists of graduating seniors, so on days that exams are held, we will be missing half of the group. Today was one of those days, and Group 1 only had four students in attendance. Meanwhile, my other classes were packed full of eager and very energetic students.
Last week I had been asked if I would be willing to teach a class for the teachers at the school who were interested in learning English. Despite the fact that I'd only signed on to teach three classes a day, not four, I didn't really feel like I could say no. Besides, what else is there for me to do here in Toguz Bulak?
The teachers' class was supposed to be held at 2:30, immediately following Group 3. This afternoon at 2:25, one of the teachers stuck her head in and asked if I was almost finished. I was asked to go to the teachers' room as soon as my class was finished. I figured that the teachers were getting antsy and wanted their class to start. I couldn't have been more wrong.* I hurried through the end of my lesson with Group 3, wondering how I would be able to teach in the teachers' room as it had no chalkboard. When my time with Group 3 was finished I gathered my things and scurried down to the teachers' room… only to find that yet another feast was underway to celebrate the start of exams. Luckily this one was only two courses and had fewer toasts… but still! Then there was the fact that I'd already eaten lunch during my break between Groups 2 and 3, so I really was not hungry at all. But in Kyrgyzstan, not being hungry is not an acceptable excuse for not eating.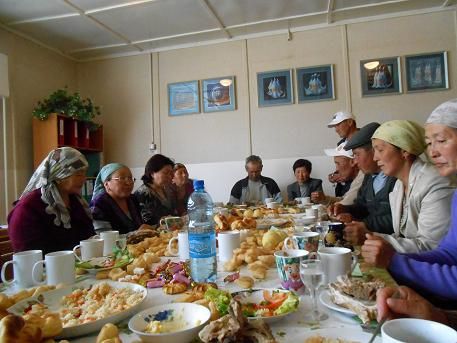 The feast was almost over (people were packing up and getting ready to go) when Three Important People arrived. They were apparently from the regional department of education, and they were going from school to school checking to make sure that the kick-off of final exams was going properly. They were also partaking in the equivalent feasts at the various other schools they visited. The two women of the group (the man being the designated driver) were a few drinks past tipsy when they arrived to prolong our feast.
The Three Important People insisted that I move to sit by them, and they insisted that everyone take more shots. Then they decided that they, the school's director, a couple of high-ranking teachers and I needed to adjourn away from the masses to drink in the director's office. Sheesh! Luckily, after the first round (and after the designated driver fellow told me that if he was my father he would have taken a knife to my arm to remove my tattoo), the school's Russian teacher rescued me by telling the Three Important People that I had somewhere I needed to be.
It was 5pm when I finally left the school, and the weather over our village was lovely and clear – even though I could see rain advancing across the valley from Kul-Tor. I decided to walk to the southeastern corner of the village where I had seen a desiccated sheep's head on our drive back into town from the farm on Saturday. It was still sitting there. I photographed it, and managed to scurry home before the rain hit.
*In the end, there never was a teachers' class. I think this was an idea of the director's that the teachers themselves didn't exactly endorse. Given how much work all of these women do at home after a day working at the school, I can understand why none of them would want to prolong their time at school.