After N and A returned from their horseback ride, we gathered all of our things and lugged them into the center of Kochkor, where our first stop was a local café – a different one from the place we had visited the day before. In contrast to the café of the previous day, this place was excellent. Not only did they have everything that was on their menu, but the service was excellent and the food was delicious. By that time my stomach had settled to the point that I was actually able to eat a bowl of borscht.
After lunch, we walked over to the taxi area and first attempted to arrange a taxi to Kalmak Ashu, the small village in the Chong Kemin valley which was our next destination. Unfortunately, as the taxi drivers knew that they wouldn't be able to get a return fare from Kalmak Ashu to Kochkor, they openly laughed at us and were only willing to drive us there for absurd sums of money. Luckily Tom (the fellow we were meeting in Kalmak Ashu) had his own car and had said that if need be he could meet us in Bystrovka (AKA Kemin), a village located on the main drag between Issyk Kul and Bishkek – and a place that it was a lot easier to arrange transport to. We ended up arranging space in a shared taxi to Bystrovka, and we met Tom at the base of the statue of Shabdan Batyr that dominates the village.
Leaving Kochkor for Bystrovka/Kemin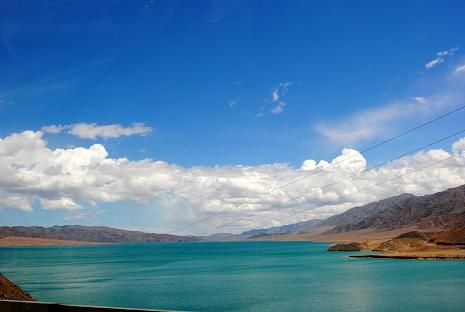 The Orto-Tokoi Reservoir, now nicely full
Shabdan Batyr, Kemin/Bystrovka
To see the complete set of photos from the drive from Kochkor to Kemin, CLICK HERE.
Tom is the Program Coordinator for the Bilimkana Foundation, a newly established educational foundation which intends to set up thirty, high-quality private-but-affordable schools offering Russian and English education in rural areas of Kyrgyzstan. Nowadays in most rural areas of the country, education is available only in Kyrgyz. While there is nothing whatsoever wrong with speaking or studying Kyrgyz, this leaves children from rural areas at a disadvantage as if you want to be successful in Kyrgyzstan you still really need to know how to speak/read/write in Russian, and to be successful in former Soviet Central Asia, both Russian and English are necessities. Bilimkana is working to level the playing field somewhat for children from rural areas who might otherwise have no chance to learn either Russian or English.
As working for Bilimkana is definitely something that I am interested in doing once I've completed my MA TESOL, I had emailed Tom prior to leaving the US in order to express my interest in the program and to suggest that he and I meet up while I was in Kyrgyzstan over the summer. His reply had been to invite all four of us to stay in the Ashu Guesthouse in Kalmak Ashu so that we could see the very first Bilimkana school, meet the students and the teachers, and explore the Chong Kemin Valley. The entire experience was phenomenal. Tom drove us to the guesthouse, a really fantastic and comfortable place, nestled in the valley, surrounded by flowers and cultivated fields, and ringed by snow-capped mountains.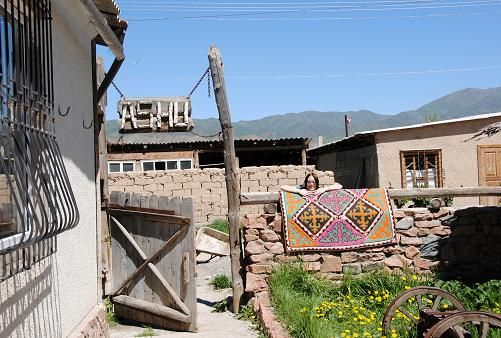 We dumped our bags in our rooms, had some tea with jam and honey, then went for a quick tour of the school. The children study in the morning, and right now they only offer classes to students grades K-2, although they are hoping to expand. English classes are offered to both older kids and adults in the afternoon. We were able to meet one of the teachers and several of the older students. The school itself was incredible – quality construction and tons of resources, including a computer lab with internet access and wifi. (Apparently the local schools do not offer computer lessons either, whereas Bilimkana does.)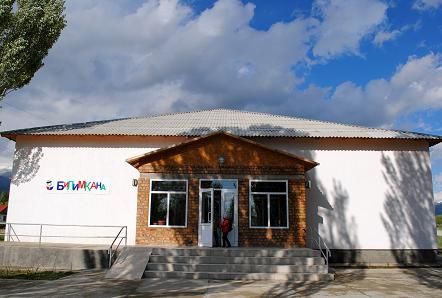 The school building
After a quick tour of the school we decided to drive up the valley just to have a look around. After the villages peter out, there's simply a gorgeous valley with smatterings of horse/cow/sheep farms here and there. Just outside of the last village we picked up – of all things – a Russian hiker/trekker from Bishkek who was hiking/camping her way around the valley. She was a very interesting woman – if possibly a tad crazy. We drove her several kilometers up the valley to a dairy farm where she arranged to spend the night. We then spent a good bit of time taking photos of the river and the valley, at which point it was time to head back to the guesthouse for dinner – which was delicious and quite expansive.
Me :-)
The following morning – after yet another copious meal at the guesthouse, Tom took us back to the school to meet the children and all of the other teachers. The place is really quite marvelous, and all of the teachers and staff seemed wholly dedicated to what they were doing. The kids were great. They were so happy, and a lovely mixture of shy and excited to see us – and they were eager to practice what little English they knew. It really was a wonderful place. We ate lunch with the children… then returned to the guesthouse where even more lunch was waiting for us. By 1:30pm we had managed to consume three large meals, which was a little insane.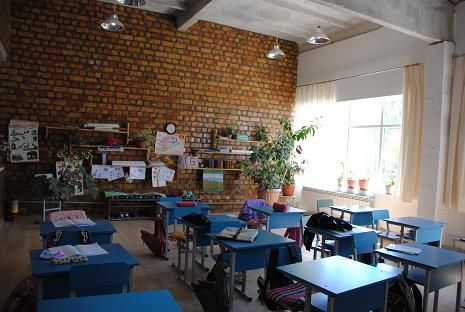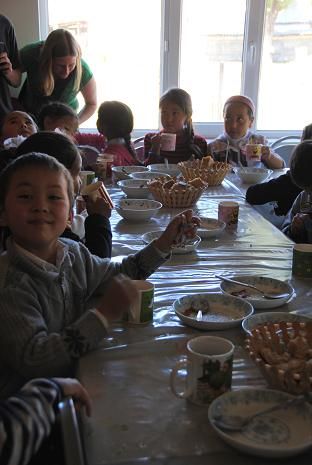 At that point Tom had to go and teach, so we said our goodbyes coupled with many thanks for his hospitality. We then decided to go for a hike in the few hours we had before the last marshrutka of the day left Kalmak Ashu for Bishkek. We hiked up into the foothills of the mountains to the south of Kalmak Ashu, explored a cemetery, met an incredibly friendly horse, and took far too many photos of the incredible views.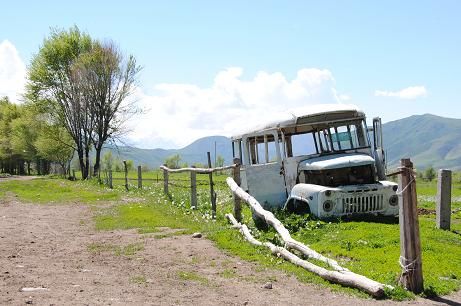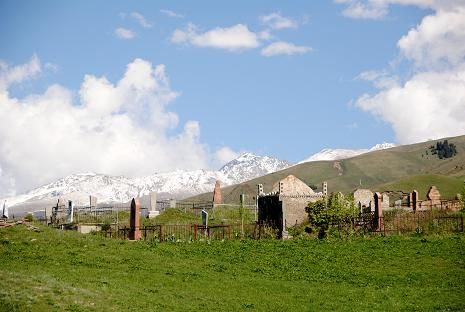 Me :-)
At about 5:15 we boarded the marshrutka to Bishkek. We returned to the Sakura hostel, and I went straight to bed, having started to feel a tad motion-sick in the marshrutka.
To see the complete set of photos from Chong Kemin,
CLICK HERE
.