My classes today went really, really well – especially considering that I had no materials to work with whatsoever, not even a textbook to follow. I had kind of suspected that I wouldn't be provided with anything, and as such had planned a lesson that could be tweaked to span the course of an hour with essentially any level of students. (And luckily I'm experienced enough that planning an entire 15 day course and all of the materials to go along with it shouldn't be much of a problem.) I had brought a selection of white-board markers with me, although what I should have brought was a selection of chalk. My classroom (like all the classrooms at the Myrzamambetov Public School) has only one ancient chalkboard. Luckily it has a lot of windows, since while it has six ceiling lights, only two of them work – and they're pretty dim.
My first class (Group 1) consists of ten high-schoolers, ages 16 to 18. They are my most "advanced" class, and I'd say they range from mid- to high- beginners. My second class (Group 2) consisted of twelve middle-schoolers, ages 13 to 15, and is solidly in the mid-beginner range. My third class (Group 3) consists of thirteen elementary school and lower middle school students, ages 11 to 14, and they are low- to mid- beginners. None are flat beginners (ie, they all at the very least know the alphabet and some basic sentences). Additionally, they all seem to speak Russian to varying degrees. While I like to use English as much as possible in the classroom, I am not one of those ESL/EFL teachers who does not believe in using the student's native language (or in this case, pre-existing second language) to help facilitate explanations when necessary. All three classes were very excited to see me, and all were incredibly eager to participate. The third (and youngest) class especially was especially excited; students were seriously jumping over each other for the opportunity to read aloud. All three groups really seemed to enjoy the singing.
Group 1 meets from 9:00 to 10:00. Group 2 meets from 10:15 to 11:15. Group 3 meets from 1:30 to 2:30. This means that I have more than a two hour break between my morning classes and my afternoon class.
During my break, I went into the teeny-tiny store located directly across the street from the school. When I say teeny-tiny… well, this place was little more than a kiosk, containing three boxes of juice, a rather comprehensive supply of booze, a lot of cookies and candy, some ice-cream, sausages, sweaters, scarves, and socks. No bottled water whatsoever. Sigh. I bought a miniscule carton of juice and added 475som to my flash drive modem. (Sadly, as the thing is of Chinese origin, it is impossible to tell my balance. I couldn't figure out what the Russian meant when I requested my balance, so I switched the language to English, and it is just as indecipherable. Chinglish nonsense. So who knows how long my 475som will last me.)
After my third class of the day, I returned home and napped. I nap a lot, no matter what country I'm in or what I'm doing. Rakhat seemed concerned that I might be either sick or homesick or simply bored, so I had to explain that I pretty much need a nap every afternoon. I have to admit, I feel a little bad about this habit, given the insane schedule that Rakhat must keep. Not only does she work at the school, but she takes care of three children – including Nurel who is only 2.5, and she must do things like milk the cows and hand-wash the clothes. She is constantly on the go from before I wake up in the morning until around 11pm.
After my nap, I did some lesson planning for the following day, as well as outlining the general plan for the remaining fourteen days of my course. The London School had given me a laptop in order that I could record audio-files to accompany their Beginner 1, 2, and 3 level texts. The laptop also contained the outlines for their Beginner 1 and 2 texts (as yet unwritten, as far as I can tell) and the actual full electronic file for Beginner 3. I had hoped that I could use the outlines and the text from Beginner 3 in my classroom. Unfortunately, the text was just too Bishkek-centric. Talking about going to the cinema next to Ala-Too Square or dancing in a nightclub after dining in a café near Sovietskaya is great location-centric content for a school based in Bishkek. However, Bishkek might be the capital of Kyrgyzstan, but it is so vastly different from Toguz-Bulak that it might as well be in a different country. Toguz-Bulak doesn't have any cafés or restaurants to speak of, much less any nightclubs! Additionally, the topics seem more appropriate for adults and university students (ie, discussing careers and university courses) which makes the content rather irrelevant to my 11 to 18 year old Toguz-Bulakian children. Not a problem: I'll create my own content.
After lesson planning, I watched Rakhat milk the cows (from which she makes fresh kefir, as well as cow-milk kumys every night). Like I said, the amount of work this woman does in one day is simply incredible. I couldn't do it.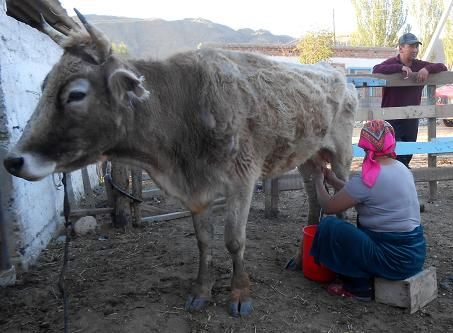 Rakhat milks the cow while Altynbek looks on