Sunday we got up around 9ish and wandered back down to Fatboy's for breakfast (yes, we quickly lapsed into that ex-pat habit). Then we headed to the State Historical Museum. The first floor was filled with a new (and temporary) exhibit on China, which was rather bizarre. Sadly, the second floor – the most wonderful floor in the history of museum floors world wide – was closed for repairs! As we had really only gone to the museum for the purpose of posing with the statuary on the second floor, I have to admit that we hopped over the red ribbon "blocking" entry and set about photographing. There were a bunch of twenty-something women who were cleaning the now-empty exhibit cases, but they studiously ignored us as we frolicked amongst the statuary. We'd made it about halfway through the second floor when an ancient and rather pissed off museum babushka came and told us that the second floor was closed, and then escorted us back to the stairwell. Sigh. Luckily the brilliant mural on the ceiling of the third floor remains – including the death's head Reagan atop a nuclear bomb. (Sadly, I've heard reports that they are planning to completely renovate, modernize, and un-Sovietify the museum. While it is definitely more of a monument to Soviet glory and propaganda than a museum of Kyrgyz history, it is a wonderful monument to history in and of itself; I really wish that they would leave it as-is. However, as the current president is apparently in favor of the overhaul, I guess I should be glad that I've had the opportunity to view the museum twice in its original glory.)
We left the museum and wandered around nearby Dubrovy Park, which is filled with bizarre statuary. Then we made our way to a shashlik place near our hostel for a lengthy and delicious lunch. Afterwards we headed to Tsum for some souvenir shopping, and then relaxed in a café on the ground floor for a while. At that point, my stomach began feeling a tad off, but I didn't really think anything of it. We returned to the hostel where I – being more jet-lagged than the others, who after all had only flown in from the UK – went straight to bed.
Around 11pm I was awakened by an Aussie dude – one of the residents of our dorm – turning on all the lights, and by a Japanese guy banging away on his laptop. OK, maybe 11pm is an acceptable time to still be awake, but this continued until about 2pm when the lights were finally turned off. The typing continued until about 4am. Now, normally I can sleep through just about anything, but unfortunately around midnight my slightly-off stomach devolved into full blown Kyrgyz Stomach Bug, and I spent the remainder of the night scurrying back and forth between my bed and the toilet, and trying to catch snatches of sleep here and there between the toilet emergencies, glaring bright lights, and the typing. In the morning I felt horrific.
Despite my health issues, we continued on with our plans to go to Kochkor, although I was totally useless as far as taxi negotiation or anything else went. It was a gorgeous day and, being spring, the scenery was lush and green – but I didn't dare photograph anything, knowing that if I looked through the viewfinder while in a moving vehicle feeling as I did, I would hurl. As it was, I made it about an hour into our three hour drive before having to make use of a barf-bag purloined from Turkish Airlines. The funny thing was, when I (in the front seat, next to the driver) started puking, B started shouting to the driver in Russian, "Stop! Stop! Her health is not good!" But the driver did not so much as slow down. Initially I thought that perhaps, since he was an ethnic Kyrgyz, he might not speak Russian – although surely all taxi drivers based in Russian-speaking Bishkek at the very least know the Russian word for Stop! I sat there for a good hour holding my puke bag, and then it started leaking. Thinking that possibly the driver did not speak Russian, I tapped him on the arm, pointed to the bag, then pointed to the side of the road. He immediately pulled over, allowing me to chuck it out the door. The remainder of our trip to Kochkor was uneventful.
The Kyrgyz government is in the process of widening/repaving the road from Bishkek to Issyk-Kul, so about half of our trip was along brand new, wide, smooth roads. The last quarter of the way from Bishkek to our turn-off for Kochkor was pretty slow going, as the road was torn up and under construction. Nonetheless, we made it to Kochkor in a little under three hours. And wouldn't you know it, as soon as we arrived in Kochkor, the driver started talking to us in Russian. So god knows why he didn't understand B. (Perhaps he thought that B was yelling at me to stop puking, instead of shouting at him to stop the car? Who knows.)
We weren't entirely sure where we needed to go, so we got out of the taxi in the village center. As I was feeling a tad better and hellishly thirsty, I bought some juice and some candy, and then we headed for the Kochkor CBT office to find out the address of our homestay and to get a taxi there. (Even though Kochkor is not a large village, there was no way that I could walk across it carrying all of my things feeling as I did.) After unloading our things at the homestay, we headed back into town on foot – taking photos along the way – and headed to the Altyn Kol handicraft center attached to the CBT office.
A, N, and B, walking through Kochkor
Kochkor's Lenin seems to have been kicked in the crotch a few too many times.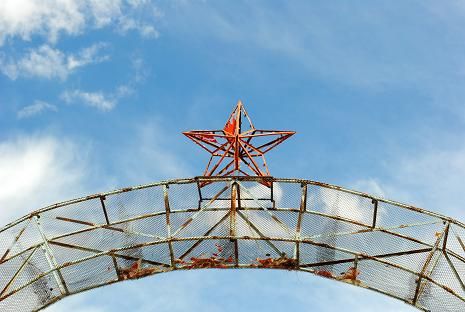 From atop the entrance to the Kochkor Brick Factory
Not sure what this monument is for...
On our way we stopped for lunch at one of the few cafes in town. I was feeling too ill to order anything other than some Coke, which I'd hoped might settle my stomach, but the rest of the group was quite hungry. We were handed a fairly comprehensive menu, but – having plenty of Kyrgyzstan experience under our belts, we had the foresight to ask if they had everything that was on the menu. Haha, not even close. They had only two items: gangfan and cutlet. My companions ordered and ate, although I have to say that the sight and smell of their lunches did not do good things to my stomach.
After my companions finished eating, we headed over to the Altyn Kol handicraft center. This is another great organization, helping local women make money selling traditional handicrafts. I bought some marvelous, pointy-toed orange and green felt slippers. Unfortunately, I didn't get to spend much time at the handicraft center, because at that point I was starting to feel sick again.
Shyrdaks for sale!
B was quite enamored of this one, although he didn't buy it.
I returned to the homestay, took a shower and collapsed into bed and slept until dinner time. Unfortunately, I actually felt worse when I awoke, and had to miss dinner in order to remain within close proximity to the toilet facilities. Yeah. And then I crawled back into bed and slept until morning. Amazingly I was able to sleep through the night without any interruptions, which was a huge improvement! For breakfast the next morning, I was only able to manage bread and jam and tea, although at least it stayed where I put it. After breakfast N and A went off horseback riding. As much as I love horseback riding around Kochkor, there was no way I was going to subject my stomach to that experience. B and I briefly explored the area near our homestay where the morning light along the mountains was absolutely perfect, and then we returned to our room to nap and await N and A's return.
To see the complete set of photos from Kochkor, CLICK HERE.