Friday morning it was raining. We slept in late, had breakfast at Fatboy's, and then my companions – who were all getting ready to return to the UK – went on quite a shopping spree, buying souvenirs for themselves and their friends. I bought myself a second orange felt hat. One can't have too many.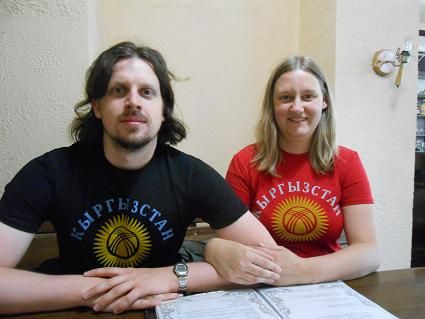 A and N in Fatboy's
B and me, Fatboy's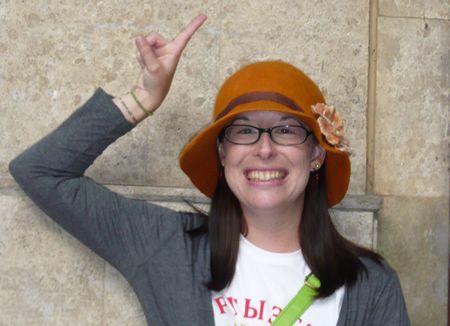 Awesome orange hat. Sadly it faded rather quickly, so it's no longer quite as awesome.
I had to go down to the London School to pick up a laptop, since for part of my volunteering program they wanted me to make some audio-recordings. I hadn't realized how much I missed having a computer until I had the laptop in my possession. I told B, N, and A that I felt like a mother holding her firstborn and discovering that it was a cat.
Late in the afternoon – after an astonishingly easy trip to the post office in which the local employees were actually friendly and helpful – we walked down to Cyclone, an Italian restaurant on Chuy not far from the White House in order to consume some of their fantabulous hot chocolate. We decided to have pizza and fondue while we were there, as we were all rather hungry at that point, but the highlight was definitely the hot chocolate. I'm fairly certain that this place serves the absolute best hot chocolate in the world.
Me, B, A, and N in the outdoor part of Cyclone. Also, note our superawesome matching shirts. Nah, no tourists here.
While we were dining, we received a text from our friend Nargiza, one of the local staff at the London School who had worked there with us five years ago, asking if we'd like to meet up for dinner. We arranged to meet her at 9pm at Jalalabad, a lovely plov café not too far from Cyclone. (Apparently it was torched during the 2010 revolution, but it shows no signs of this now.) Dinner with Nargiza followed so closely on the heels of our late lunch at Cyclone that I wasn't hungry enough to make much of a dent in my plov even though it was delicious. B ordered the "horse meat assortment" which contained straight-up horse meat, horse meat sausage, and horse meat guts. I tasted the regular horse meat, which was okay, if a tad dry. B apparently liked the meat and the sausage, but was thoroughly disgusted by the guts.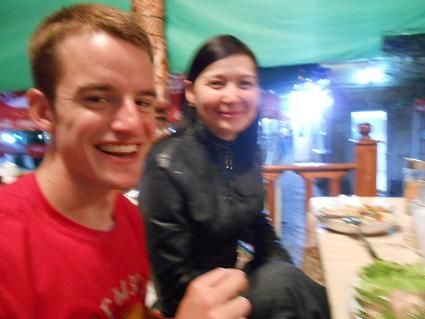 B and Nargiza, Jalalabad
Jalalabad is a halal restaurant, and as such doesn't serve alcohol, so when we were finished with our food, we headed over to the Kant café on Kievskaya for some drinks. We hung out over there until midnight. Sadly, at that point it was time for N and A to taxi off to the airport.
Nargiza in Ala Too Square :-)
A, N, Nargiza, B, me, Kant Cafe
The next morning, B and I went to Fatboy's for our last Kyrgyzstan 2013 breakfast together, after which it was his turn to taxi off to the airport, waving and shouting 'No physical harm!' as he sped off down Chuy.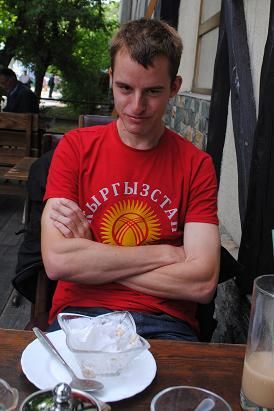 B was pouting over having to leave.
It was sad to suddenly be alone in Bishkek, a feeling I had only experienced at the very, very beginning of my 2008 trip. Being in Bishkek without any of the 2008 crowd was somewhat surreal. Still, the first part of my journey was over, and the second part was just beginning (to loosely paraphrase Movie Gandalf).
I was scheduled to leave for Kul-tor on the following morning to begin volunteering. I went to one of the western-style supermarkets to stock up on quality toiletries (as opposed to the awful TSA-compliant ones I'd crammed into my carry-on). I then did some laundry out of our bucket and hung my clothes up on the roof of the hostel to dry. I then re-packed all of my things in order to fit the laptop into the mix. This was a bit of a challenge. I hadn't brought my own laptop with me in the first place because I simply didn't have room for it… however, once again, the bucket proved useful, as I was able to cram a whole bunch of stuff into it.
Around 4:30pm, just when I was beginning to ponder my dinner plans, the London School called. Apparently they hadn't meant to give me the super-fast, brand new Samsung laptop that they had given me, and I needed to bring it back to them and exchange it for a different laptop. They also wanted to discuss some "changes to the program" with me. Could I come by the school at 6pm? Sigh. This meant that I had to completely re-do all of my clever packing.
I was feeling quite annoyed by the whole laptop exchange nonsense when I arrived at the London School, only to be told that actually, I'd need to stay in Bishkek an extra two days. The director of the London School wanted to meet with me before I left to discuss some changes; she would meet with me on Monday, and I would leave for the village on Tuesday. I have to admit that I returned to the hostel in a foul mood, between the exchange of a brand new Samsung laptop for an ancient Acer and the news that my departure would be delayed for reasons that were not entirely clear.
I decided to go out for overpriced curry to make myself feel better. There is a curry place called The Host located just across from the Hyatt. I enjoy local cuisine, but as I figured that as of Tuesday I'd be eating nothing but local cuisine, I figured I'd keep up my international menu as long as I could. The food was delicious and the service was incredible. I returned to the hostel in a much better frame of mind.