January 13, 2008
Sneg means snow, and today it's snowing away. I should be planning my lessons for tomorrow, but instead I've braved the elements to come to the internet cafe in order to share the miscellany of my past week with you.
On Wednesday, I got to pick up my official certificate of AIDS-lessness
I removed the rather gross rug from my living room/kitchen floor. This picture was taken after I'd swept THREE times. I kid you not. It was filthy under there.
So filthy, in fact, that I had to get on my hands and knees and attack the floor with cleaner.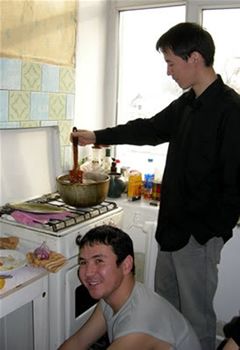 On Saturday, some of friends of my fellow teachers at TLS made plov. They're from the city of Osh in southern K-stan, and claim that therefore they make the best plov.
Plov!
Plov party :-)
My favorite Russian chocolate ever... readily available in Bishkek!