March 16, 2008
Since neither A, K, B (the new teacher), nor I had been to the Ala Archa National Park, the school arranged a trip for the four of us this weekend. Ala Archa is a large park in the mountains and valleys surrounding the Ala Archa river, located roughly 30km south of Bishkek. We were driven there at 10:00 Saturday morning by the school's driver, and dropped off at the park gate, left to fend for ourselves until 4:00 when the driver planned to return. I must say it wasn't exactly the best weather for spending six hours hiking about in the wilderness, as it was chilly, dreary and overcast, but we had a good time anyway.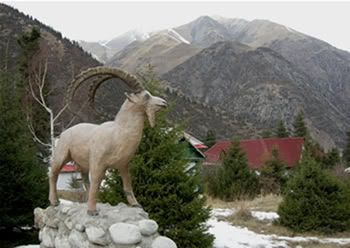 At the entrance to the park are two statues, one of a mountain goat and one of a snow leopard.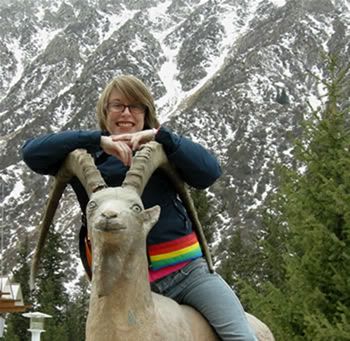 Of course, we had to mount them.
The scenery was spectacular – even with the dreariness of the day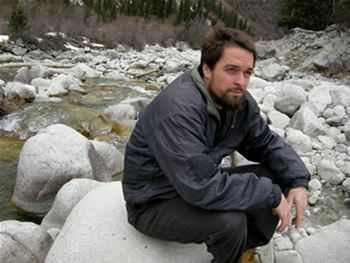 Camera-shy B, not realizing I was taking his photo, sits by a rock along the Ala Archa river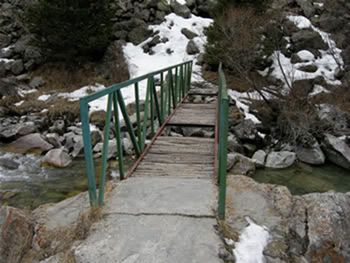 We came across this incredibly safe looking bridge…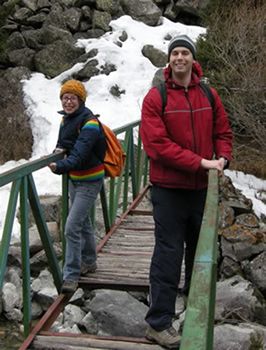 …and of course decided to cross it. There wasn't anything on the other side....
…although the view from the center of the bridge was pretty worthwhile…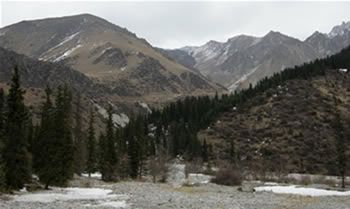 …as were most of the views.
АСХАТ might very well be a Kyrgyz name, I don't know...
But it's pronounced "asshat" :-)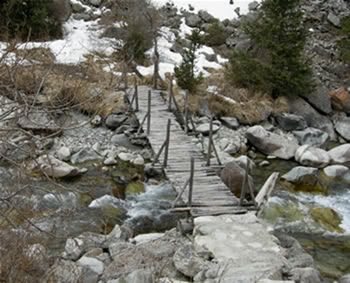 Further upstream, we encountered another super-safe bridge.We crossed this one too…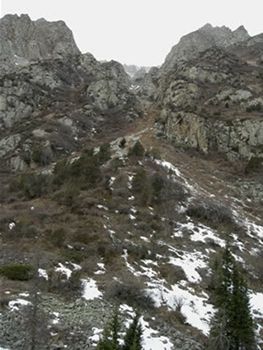 …and once on the other side of the river, we decided it would be a good idea to try and climb this cliff.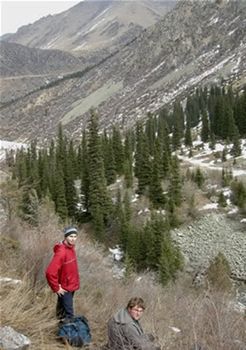 We only made it about halfway.
The view was pretty cool though.
See what I mean?
Of course, getting back down the cliff was quite an adventure. At one point I was on my ass, sledding though the snow for quite a ways. I had a very wet ass for the rest of the afternoon, and was feeling very much in need of an ass hat.
We had seen a café near the park's entrance, and, seeing rain clouds advancing towards us, we decided to leave the park in search of some shashlik and beer. Now I don't know what Ala Archa is like during the rest of the year, but it's not exactly a happenin' place in March. There was only one café at the park's entrance that was open – and it didn't have any food! I kid you not. There was a woman wandering about in a chef's hat and apron, but she told us there wasn't any food. Nor was there beer. In fact, the only thing available was one liter of Coke and one of Sprite. So we ordered them (at 80som/bottle – total rip off!) and broke out the remains of our picnic.
All in all, it was a good day. However, after seeing Nick and Jessica's pictures from summertime Ala Archa, I know that I must go back once it's green up there!