March 20, 2008
Ok, so I know I said I wasn't going to post again until after I returned from my three day weekend in Naryn, but my Embassy class was cancelled today, leaving me with a fabulous three hour break in the middle of my workday. So, I've decided to use this time to post some random images I've been saving up for some time now. Here you go:

I've mentioned marshrutkas (mini-bus taxis) numerous times; now here's your chance to see what they look like. See, the other day, I was sitting in my peachy kitchen/living room having lunch, when I heard tires squeal loudly, followed by a loud bump; a marshrutka had rear-ended a station wagon right outside my window. I went and got my camera. By the time I returned to the window, the drivers were screaming at each other at the top of their lungs. Meanwhile, most of the passengers had disembarked and were picking sides. Some were screaming at the driver of the station wagon, while others were screaming at the marshrutka driver. All in all, it was just a minor fender-bender – from the way everyone reacted, you'd think lives had been lost or something!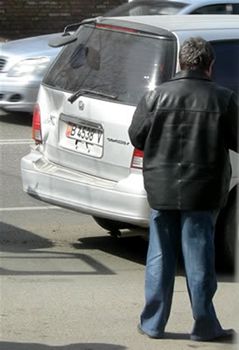 The damage was really not worth all the screaming!
Last Sunday I walked south along Sovietskaya until I reached a large park which A and B had told me about. It's apparently Park Pobedi (Victory Park). It's landscaped quite nicely, and I suspect that once spring finally gets here for good, it will be a gorgeous place. As it is, everything is still pruned down for winter.
The centerpiece of the park is a large, rather bizarre monument.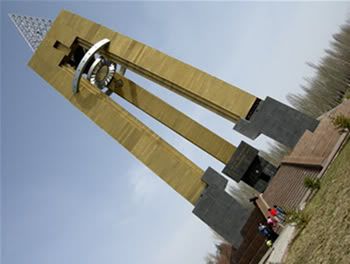 The park is also home to numerous fat Central Asian squirrels.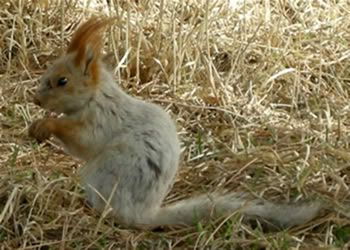 On a clear day, I suspect that the view from the park to the mountains would be spectacular. Unfortunately, while the skies over Bishkek were sunny and blue, the mountains in the distance were shrouded in haze.
You can barely see them behind the foothills.
Here's what they look like from the city on a clear day:
This is the view from my classroom.
Ditto. Minus the zoom action.
Speaking of views from school, we had an incredibly interesting one on Wednesday, although unfortunately, I didn't have my camera on me at the crucial moment. In the courtyard next door, they sacrificed a sheep. Well, I suppose they killed it and made it into plov, but the way they went about it definitely brought to mind the word sacrifice. First a mullah (er, maybe. My student told me he was a сиященник, the Russian word for priest, although he was definitely Muslim. I'm not exactly up on my Islamic terminology.) Anyway, the priest led a group of about 10 people in prayer as they kneeled before the goat. Then the men got up and slit its throat, collecting most of the blood in a bucket. They proceeded to string the carcass up from a tree, then they flayed it and added it to the plov pot. Sadly, I only have a picture of a man cooking the plov.
Dude cooks plov.

I saw this car the other day and thought it was quite photogenic: