March 3, 2008
Friday night a group of us went to the Georgian (as in eastern European Georgia) restaurant downtown (I need to find out its name). It's probably one of the more expensive restaurants in Bishkek, so we certainly won't be eating there all the time; however, for a once in a while treat, it was definitely worth it. In addition to fancy décor (including obviously quality linen tablecloths and napkins), the service and food were excellent. I loaded up on my all-time favorite Georgian dish, hachipuri – yummy bread stuffed with incredibly delicious soluguny cheese, AND made my evening even cheesier by purchasing an entire dish of bubbly melted soluguny, mixed with tomatoes. Ahh, heaven. We split a bottle of some of the best wine I've had in recent memory (the Georgians do their wine and cheese to perfection), and left the restaurant feeling utterly content... if slightly light in the wallet.
Eating the cheese made me incredibly happy.
Also, this photo has inspired me to get a haircut.
Wish me luck.
After leaving the Georgian place, we taxied over to Sweet 60s where Cadillac (our plov-cooking friends) were playing, for some beer and dancing.
Katy, Natalia, Jonathan, Austin, Nick, Jessica, Me
(OK, so this pic was froma few weeks ago at Sweet 60s...
but I didn't get any group shots from last Saturday!)
Saturday afternoon, Nick, Jessica, Austin and I went to Osh Bazaar for the purpose of stocking up on painting supplies. Apparently we're going to have a paint party and paint my kitchen orange. (I'm sure my mother is reading this in disbelief, since I returned home last September with grand plans to paint my The Small Southern Town kitchen orange, as well as to paint that entire fixer-upper that she'd bought... and in the four months I was home, I managed to paint half of one wall. So we'll see what happens with this paint nonsense.)
Anyway: on the way to the bazaar, we managed vaguely comfortable seats near the driver in an oversize marshrutka. Given our proximity to the driver, we ended up being passed people's money and given the task of getting change for those who needed it. This is something I'm pretty accustomed to doing... but this time we tried our best to conduct all the transactions in Kyrgyz instead of in Russian! It's difficult – especially knowing that most people here can speak in Russian – but it's very rewarding. People just seem to grin ecstatically when they realize that a foreigner is trying to speak their native language. We ended up chatting with the driver (albeit mostly in Russian, since our Kyrgyz is nowhere near chatting ability), and it was probably the most enjoyable marshrutka ride that I've had anywhere.
After arriving at the bazaar, we decided to go to the souvenir-and-traditional-Kyrgyz-stuff section first. I ended up buying yet another pair of totally cool felt slippers and a really awesome felt bag. We did our best to speak to the sellers in our smattering of Kyrgyz, and we were definitely rewarded with smiles and conversation.
Before I left for Kyrgyzstan, my mom asked me to look for a Kyrgyz saddle for her. Well, I found one – although given that the saddle is going for more than she wants to pay for a horse, I doubt she's going to fork over the funds to purchase it. (The man started off telling me he was asking $1500 for the saddle, bridle and all accoutrements, but quickly came down to $1400. While I could probably talk him down lower, my mom wants to pay less than $1000 for a horse horse, so I doubt there'd be any point.) Anyway, he did take out all the pieces of the set, so that I could take a picture of them for my mom: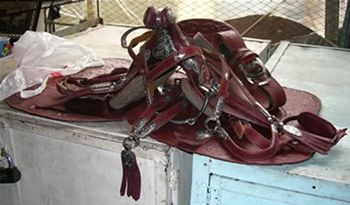 Then we went and bought all the things we'd need in order to paint my kitchen. (Nick and Jess apparently love painting, and they painted their kitchen/living room bright canary yellow and their bedroom an awesome shocking turquoise, and they're the ones spearheading this paint-party business.) Instead of buying pre-mixed paint like you'd get at Lowes or Home Depot, we got two buckets of white "emulsion" (whatever the hell that is) and four tubes of orange color to mix into them. We also bought rollers, paint brushes, masking tape, plastic sheeting and a coffee-serving-tray to serve as a tray for the paint. (The look on the paint/roller seller's face when we tested the rollers to see which size fit in the coffee-tray was priceless.) All in all, we spent about $25 on paint products, and in theory, we'll be painting my kitchen/living room next weekend. I'll keep you posted on how this all turns out...