Life at the Beach Camp is incredibly relaxing. I have to make sure that I am awake at meal times (9am, 1pm, and 6pm) but other than that I have absolutely no responsibilities. And, as I am once again on my own, I no longer need to plan my day around the lives of others. I loved both of my host families, but I definitely prefer being in control of my own life. Of course, there's not much to do here, especially as my Floridian body has completely ruled out swimming in this frigid lake, and as I am not one for sunbathing. This means I'm mostly left with long walks, long naps, and long sessions with my kindle. I don't mind; I'll be returning home in eight days, at which point I will have a lot to accomplish before the start of the fall semester on August 19th; I may as well enjoy doing nothing for as long as I can. Plus it's pretty damn scenic here.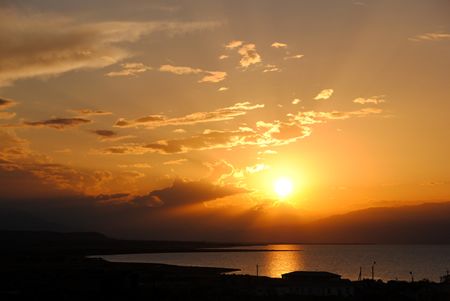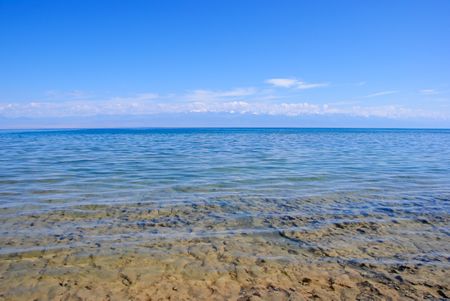 This morning I made it my mission to explore the large and seemingly abandoned/unfinished hotel located just behind the hot springs. I love all sorts of derelict and abandoned structures, and this one has fascinated me ever since my first trip down to the shore with Rita and Kuban. From a distance, it was impossible to tell if it was still under construction, if it had been abandoned mid-construction, or if it had been finished and then abandoned. However, determining the nature of the structure seemed likely to entail sneaking past the obviously inhabited home located within the fence surrounding the derelict hotel. I suppose a more normal individual would have simply asked the residents of said home for information about the hotel – as well as for permission to explore. But I'm anything but normal.
This morning was warm and sunny, so after breakfast I grabbed my camera and set out to walk around and behind the hotel. A large area (far larger than the hotel itself) is fenced in, meaning that this was a somewhat lengthy walk. Additionally, I wanted to approach the hotel from the southwest, since the home on-site is located on the northeastern corner of the property. I was worried that there would be no means of entry from the southwest, but luckily for me there was an open gate.
There were no back doors into the hotel; however, each of the rooms had a door opening up onto a balcony. (By "door" I mean an empty hole in the concrete; there were no actual doors or windows installed.) I was able to scramble over the balcony's bars and gain entrance to the hotel that way. From what I could tell, the place had been abandoned mid-construction. Light fixtures and wiring had, at one point, been installed, but no doors or windows, and the walls and floors seemed to have never been more than bare concrete. It looks to have been abandoned for several years. I don't remember it from five years ago, but apparently it was here; I was told that it's been abandoned there since the collapse of the Soviet Union.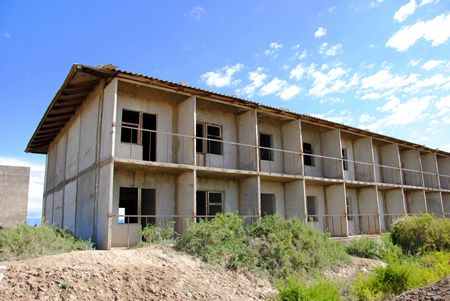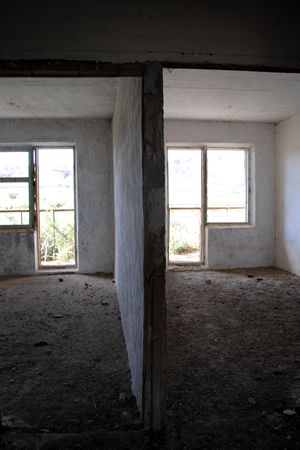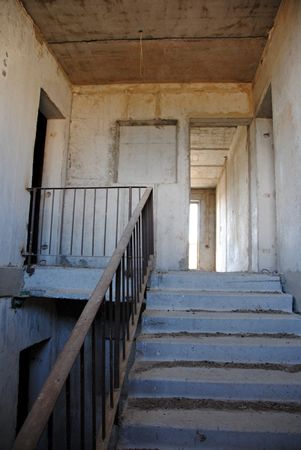 Had the hotel ever been finished, it would have been a comfortable, modern facility, with one bathroom (including, from what I could tell, a toilet and shower) for every four rooms. Each room would have had large windows and a balcony, overlooking either Issyk Kul to the north or the mountains to the south. However, in its current state, the place is far from modern or comfortable. The fixtures and wiring had been ripped from the bare concrete walls, cows and sheep had obviously had the run of the ground floor for some time, and there was evidence of the occasional squatter and teenaged partier. While it is probably salvageable, doing so would cost a lot of money. As such, I suspect that it will remain as is for a long time, if not forever.