I had been petting Buddy and Mocha when I realized that one of them must have rolled in something rotten. Yuck. I made my way out to the street for the purpose of washing my hands in the aryk when I noticed a rather attractive specimen of horse tied to a power pole. Thus distracted, I diverted course from the aryk and wandered over to pet her for a little bit. Shortly thereafter, her owner moseyed up. He was an elderly and slightly less than sober fellow who had been chatting with some other folks down the block. He asked if I wanted to ride her. Having been in Kyrgyzstan for nearly three months without having ridden a single horse (something rather unheard of, surely) I jumped at the chance. Not that I could ride very far, as there's just the one main street in Bar Bulak, and I was waiting for Kuban to show up and cart me off to the London School's Beach Camp.
The horse's owner hoisted me up onto his horse (I really could've mounted her myself, but I guess he had no way of knowing that) and gave me the ever so helpful instructions of "Just don't fall off!" before moseying back over to his friends. I rode the horse up and down the street a few times, weaving her in and out of various obstacles. She was incredibly responsive to my commands – much more so than Honey (my American horse). Of course, as she is used for transportation, she probably wondered if she had landed a drunk driver, as I kept instructing her to do things that did not involve going in a straight line from Point A to Point B. I have to admit that it was amusing to ride past locals (including former students) who had seen me every day for the past month – they all looked quite astonished by the discovery that The American was actually a competent horsewoman. After a couple of turns up and down the street, I dismounted, and the horse's owner, complete with a freshly opened bottle of beer and a lit cigarette, mounted and rode away.
I washed my hands in the aryk and returned to my room to await Kuban's return with the car. I had rather a long wait. My "early" arrival at Beach Camp ended up not being all that early. See, the previous day, the engine of Kuban's old Audi had begun doing its best to emulate that of a Harley. Now, the Harley sound is great… on a Harley. But no car – especially an elderly Audi – is supposed to sound like that. As of this morning, the car had ceased running entirely. Now, getting one's car fixed rapidly is next to impossible in a big city with plenty of mechanics and auto-parts stores. The fact that Kuban was able to have his car up, running, and purring like a kitten by 5pm in Bar Bulak was pretty miraculous. But, this also meant that despite the fact that I was up, packed, and ready to go by 10am, we didn't leave for the Beach Camp until shortly after 5pm.
I'll be staying at the London School's Beach Camp for a week free of charge as a thank you present for having spent the summer volunteering for them. For someone who has spent the past two months living the life of a rural Kyrgyz villager, the London School's Beach Camp is a veritable modern paradise. It's a two story hotel (of sorts) located just up the hill from the yurt camp where Rita and Kuban have their yurt "hotel" and café. The hotel has 16 rooms (mostly singles, some doubles), although only two bathrooms. But get this: THEY HAVE RUNNING WATER! And hot showers! And sit down toilets! At least someone out here has had the initiative to have an electric well installed, although its water pressure seems to vary. (As I hadn't showered since my visit to the hot springs 13 days previously, one of the first things I did was to avail myself of that luxury. That and the sit-down toilet.)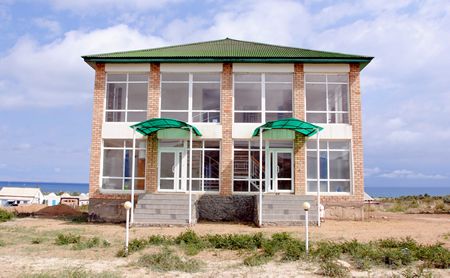 The London School's Beach Camp Hotel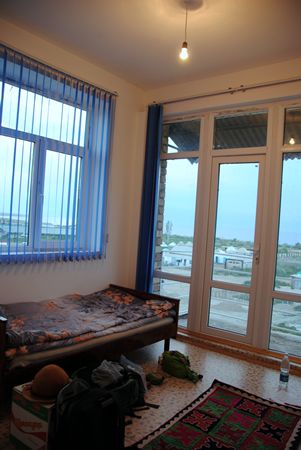 My room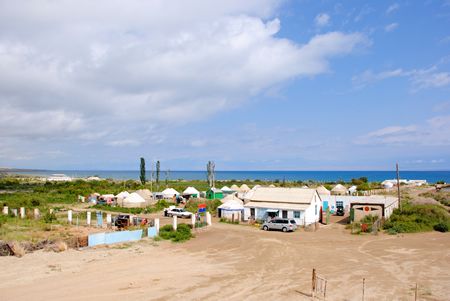 My view :-)
The director and several other London School folks were at the Beach Camp when I arrived, so I took the opportunity to see if they could arrange for me to have a car from here to Bishkek, so I wouldn't have to take a marshrutka with all of my absurd amounts of baggage. Supposedly I will have a car here at 11am on Saturday to drive me and all of my crap to Bishkek. It will cost $20, which is totally expensive for Kyrgyz travel, but most definitely worth not having to be crammed into a marshrutka with all of said crap. Woohoo!