This morning, Rita and I walked up to the new school building. It has apparently only been open for two years, so it is really quite new. Inside, the building is just as lovely as it appears from the outside. The classrooms are large, well lit, and well-equipped, making up for its inconvenient location. During the summer the school (like most Kyrgyz schools) is closed for
ремонт
(that wonderful word which can mean repair, reconstruction, remodeling, or maintenance). As the school's director, Rita needed to check in and see how the
ремонт
was going and I got to tag along in order to check out the inside of the school. While it is a really great building, I don't regret my decision to teach in the old school, given its convenient location. Also, it might have been somewhat challenging to teach at the new school amidst the paint fumes and other
ремонт
efforts.
Okay, so I posted this picture before, but I wanted to remind you what the exterior of the new school looks like.
And then there's the interior: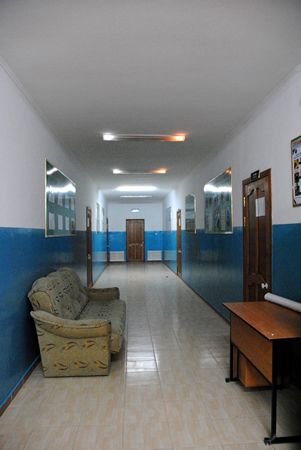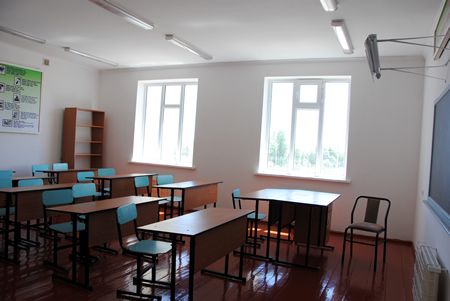 And there I am :-)
The view from the school's front porch, looking south
After leaving the school, we stopped at the first house down the hill to request use of their banya later that day. Unlike my hosts in Toguz Bulak, my hosts here in Bar Bulak do not have their own banya. While they do actually have a nicely tiled indoor shower… there is no running water or plumbing, and as such it is essentially used for storage and nothing else. Sigh. As such, they must either rent a banya from one of the local families who have one, or they must travel to the town of Balykchy (about a thirty minute drive) to use one of the public banyas. I was very excited at the prospect of using the banya, as it had been nine days since my previous banya experience. Unfortunately, shortly after we returned home, it began to rain. For some reason that was unclear to me, the rain canceled the banya. Ahh well. Such is life in the village.
I spent the afternoon in bed with
Котчик
– what else is there to do when it's raining? – except for the brief interlude of an hour or so when we popped over to the next-door neighbor's house for tea. "Tea" of course, is pretty much always a full-fledged meal. This meal consisted of oromo, a pastry and vegetable dish of which I had heard but previously never tasted.
Котчик
By the end of the day, I had eaten four meals, and I'm pretty sure that the family had eaten one before I awoke. Sitting around with friends and family, drinking tea and eating is such a huge part of Kyrgyz culture. My stomach is too small to keep up! The thing is, while most of them are (shall we say) fairly solid, I've yet to see a single morbidly obese person here, unlike in the US where they abound. I'm guessing this has a lot to do with the lack of preservatives and other unnatural chemicals in the food here, combined with the amount of hard work these people do every day. During the school year, Rita, her coworkers, and their students walk the steep kilometer or so to the school every day. In contrast, I've seen my neighbors in Orlando drive across the parking lot from their door to the mailbox instead of walking.