After lunch today, I went for a walk around the village. There are definitely fewer homes/people/roads here than in Toguz Bulak, although each family here seems to have a pretty substantial piece of land compared to the folks in Toguz Bulak. I walked up to the brand new school building. It's very nice looking, and at least twice the size of the old school in which I'm teaching. Unfortunately, it's located on the far northwestern corner of the village, atop a fairly steep hill. It's about a 1km walk for many of the students, and would certainly be quite challenging in mud or snow.
The view from the hill where the school is located is quite spectacular. You can see Issyk-Kul, the village of Bar Bulak, and the surrounding desert-like rocky areas.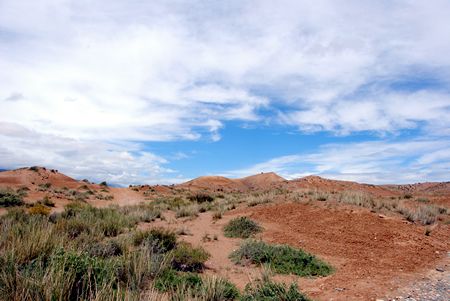 The hill behind the school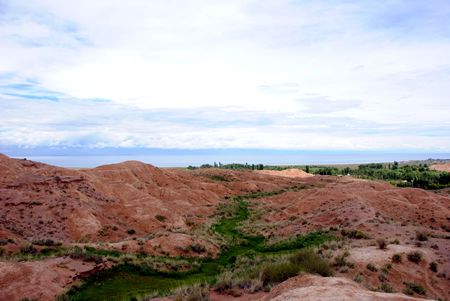 The view from the hill
I also had a full cell-signal up there, meaning that I'd probably have a full internet signal up there, too – although I can't really see myself lugging the laptop all the way up there except in case of emergency. (NPH!!) I hiked back down from the school and took a different route home (there are really only two possible ways to go; there are few roads here). An old cemetery is located on a hillside above the old school. Just above the cemetery, at the top of the hill, is a bench. While sitting on the bench, I also had full bars on my cell. This bench is much closer to home than the new school, so I decided to return home, grab the laptop, and see if the internet signal was just as strong up there as my cell signal.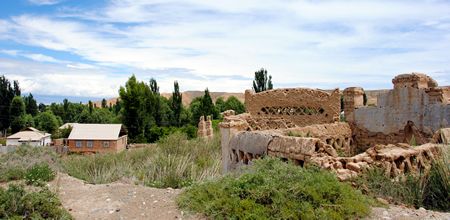 From the bench in the cemetery
When I picked up my laptop, I left my camera behind, as I really didn't want to carry both of them. I really should have brought the camera, though, as a foreigner with a computer is pretty much the pied piper around here. I ended up with six children and a donkey crowded around me (although the donkey was not there by choice), watching in fascination as I waited five minutes or more for Gmail to load. I can't imagine much that would be more boring to watch, especially as none of them could read any of the text when it finally loaded, but they were utterly fascinated!
(I later figured out that if I sat at the western edge of my room near the center of the wall, and held my laptop roughly 3 feet off the ground – a feat usually achieved with a stack of pillows and blankets – I could acquire a weak signal. It wasn't great, and it only worked about a third of the times that I tried, but it beat having to lug the laptop up the hill!)