What should one do when one hasn't bathed in ten days? Take a very long walk in the very warm sunlight, obviously! Haha. Today was beautiful, and I didn't want to waste it, especially after having been confined indoors so much by rain the previous day. I told Rita that I was going to go for a walk, in the vain hope that she might say "No, don't go! We're going to the banya!" Instead she told Aidai to go with me, to make sure that I didn't get lost. I doubt my Shadow would have kept up with me the entire way had she not been instructed to do so, as the route I'd decided to take was fairly long – down to the lake and back, a walk of several miles. To her credit, she didn't complain too much, other than a couple of "Are you sure you want to go to the lake? It's really far!" type comments.
About 3/4 of the way to the lake, we passed the home of a friend of hers (and one of my students) named Akbermet, who decided to join us. At that point, Aidai became a lot more excited about the prospect of a walk down to the lake and back.
There were several springs along the shore.
Issyk Kul
Issyk Kul
Aidai and Akbermet
Akbermet and me
When we finally reached the water, the girls swam while I relaxed on the shore. I contemplated using the lake as a banya-substitute to somewhat clean myself off a bit, but despite the warm weather, the water was just too chilly for me. I couldn't bring myself to wash more than my feet.
Eventually, we decided to head back. When we reached Akbermet's house, her parents invited us in for tea, which was quite wonderful, since at that point I was VERY thirsty. The girls decided that Akbermet would spend the night at our house so that she wouldn't have so far to walk for class in the morning. We headed home, and made it inside just before the afternoon rains hit.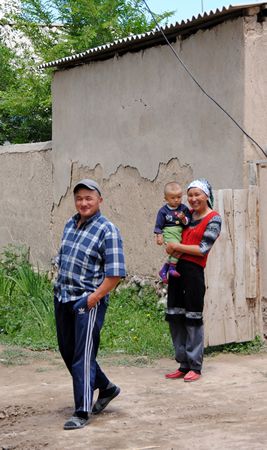 Akbermet's parents outside their home.