April 16, 2008
Tan (тан) is the most wonderful beverage in the world. The best way to describe it, however, makes it sound rather awful: it's like watery, carbonated buttermilk. Trust me, though, it's delicious. Buy it if you ever get the chance. The above bottle of tan is dill-flavored. I was worried it would be disgusting, but it's even more delicious than regular tan. I've been downing at least a liter a day. Awesomeness.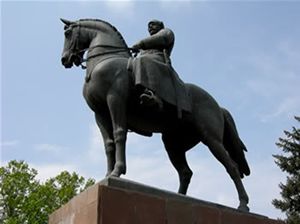 This gigantic statue of Frunze (

wikipedia entry

) is located just across the street from the Bishkek train station. He sits atop an eerily anatomically correct horse. You can't tell from this shot, though.
Bishkek train station - obviously taken facing the sun, sorry.
More train station. Too bad the Kyrgyz train system is so... truncated.
I want to buy an old green or orange Lada or Moskvich.
I've been stalking them around the city.