Thank goodness for Imitrex. That stuff might knock me out, but it knocks the migraine out, too. I awoke fairly early (around 7:30am) with no headache, but with that strange 'Imitrex hangover' feeling. Days like that one should take it easy, lest the Imitrex wear off too soon and the migraine reassert itself. However, as I had a lot to do – and a date with the family for sheep slaughtering that afternoon – taking it easy wasn't an option.
I started off with breakfast at Fatboy's, figuring none of the places I needed would open until 9:00 or 10:00 anyway, and Fatboy's opens pretty early. After breakfast, I took some pictures from in front of the museum in Ala Too Square, as the mountains were clearly visible for once.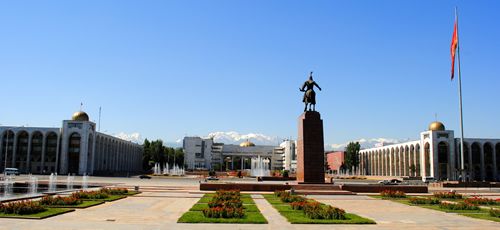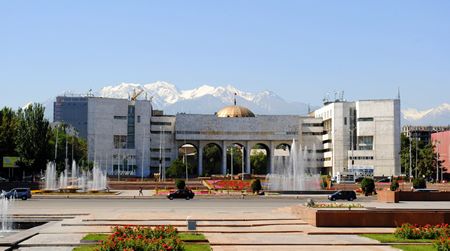 Then I made my second attempt to locate Dom Byta, the place where – according to ES – I could probably get my long lens fixed. During the night, she had emailed me detailed directions for finding the place, and that – combined with the lack of migraine – enabled me to locate it on the second floor of a small, kind of sketchy looking building just west of the square (Kievskaya 104). The fellow inside the tiny camera repair shop was incredibly nice. He had to slice open the side of the cap on the back end of the lens with a small saw in order to get it loose. Then he taped the cap back together in such a way that it was still usable. And just like that, the long lens was back in business! He also had a fantastic collection of old film cameras that I would have loved to have played with if I'd had the time… but alas.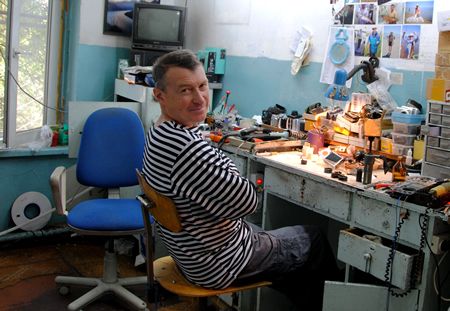 The lovely fellow who fixed my lens.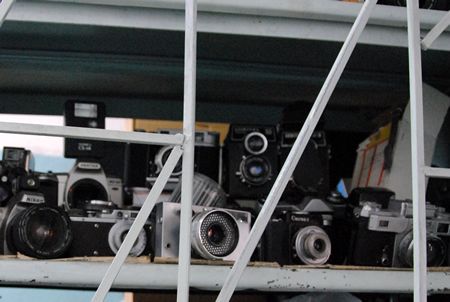 ...and his fantastic camera collection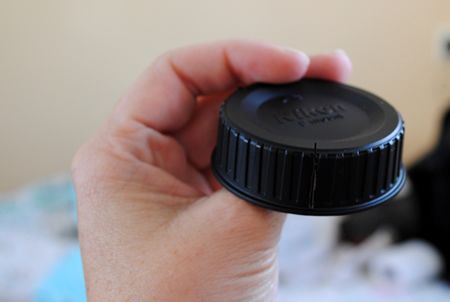 Sliced
...and taped
My next goal was to get photos printed. There were some that I wanted to add to my collection of photos that I use in the classroom, and there were others that I wanted to give to my host family as presents. After that, I popped into a supermarket to get some of the things I'd neglected to buy the day before (toothpaste, lotion, etc.), and then I hit up TSUM again, this time looking for shoes. I ended up buying the only practical (i.e. not atop 3+ inch heels) women's shoes I could find: overpriced, lime green Converse knockoffs from Turkey. I also snagged some new socks and underwear. I had a fried chicken wrap at a fast-food stand outside of TSUM, and then stopped off at one more grocery store for snacks and three liter-bottles of non-gassy water to take back to the village with me. At that point it was around 1:30pm, and my headache was showing signs of an attempted resurgence. I returned to the hostel and napped for a couple of hours, at which point it was time for Sheep Slaughter Number Three.
Rakhat and one of Altynbek's sisters came and picked me up, and we drove way out to the southwestern edge of the city where another one of A's many relatives lived. He has something like five brothers and five sisters – they were all in attendance with their spouses and children (and in some cases, grandchildren). It was quite a merry gathering. And apparently they really did all want to meet me.
There were quite a few courses – including two different courses made from the sheep who had ridden to Bishkek with us the previous day. In between courses, the family hung out and chatted while the children played. All in all, it was quite jovial.
Vodka was brought out – and as they had ALL heard about my drinking adventure with Jumabek, I was not allowed to turn down a shot, even when I pleaded the excuse of my headache (which had started to creep back in around 6pm). Luckily there was only one bottle to be shared amongst all of the people in attendance, meaning that I was able to scrape by with 3/4 of a shot, instead of being forced to display my legendary drinking prowess. (It's a little ridiculous that they are all so impressed by my alcohol consumption skills, given how little I drink in general!) One of the brothers told me that when their mother is present, they can't get drunk, which was why they only had the one bottle. I was seated next to their mother (who is in her 70s), so I told her that I was glad that she was there. She laughed and winked at me. "When my children aren't around, you and I can split a bottle." Oi.
Around 10pm, it was time to go. I had a minor headache and was not at all intoxicated. I didn't feel great, but I didn't feel bad either. Then I got into the car with Altynbek's nephew, who had been tasked with driving me back to the hostel. He was a terrible driver. Not terrible in the sense that I felt in danger (I didn't at all) but terrible in the sense that he was one of those drivers who constantly weaves and swerves and makes a lot of seemingly unnecessary turns and sudden stops. As you might guess, I began to feel quite motion sick. I made it out of the car and about halfway down the street to the hostel when I began puking. Ugh. It's always something. After completely emptying the contents of my stomach, I made it inside, took a brief shower, and passed out.