Yesterday after my classed finished, my host family informed me that we were going to "go to a hot springs." I was a little concerned that they were going to take me to Bar-Bulak (which means 'hot springs' as they do indeed have one there). As I will be moving to Bar-Bulak in less than two weeks it seemed a silly place for me to take a day trip. I needn't have worried; we went in the other direction.
Our first destination was Bokonbaevo, in order to purchase some supplies. From there we continued east through the villages of Tong and Kaji-Sai to a place I'd visited before on one of my trips along the southern shore of Lake Issyk-Kul five years ago called Aalam Ordo.
Five years ago it was an abandoned, half-completed, Manas-themed resort. Five years later, a bunch more work has been done on the place, but if anything, it seems rather worse for wear. It is now an abandoned, half-completed Manas and Chingiz Aitmatov themed resort with a monument to the 2010 Kyrgyzstan Revolution. I absolutely loved it, but then again, I love desolate and abandoned places. It was rather sad how proud Rakhat and Altynbek seemed to be of the place as they explained the meanings behind the various murals, and assured me that if I came back in five years' time, this would be an incredible resort, packed full of tourists.
The statue farthest to the right is Chingiz Aitmatov
I don't know who the others are supposed to be.
One of many unfinished yurt-shaped cabins

The main central plaza (?) with a mural of a Manaschi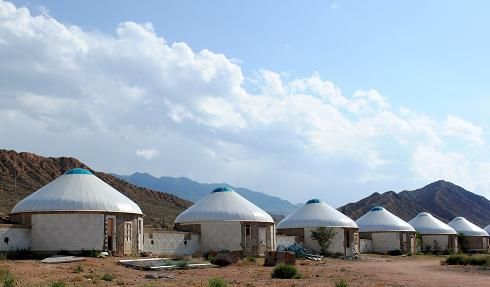 Some of the cabins were closer to being finished than others...
although they'd all obviously been sitting here for quite some time.
The monument to those who died in the 2010 revolution. The building on the far right of the mural is the Kyrgyz White House, and it has snipers on the rooftop firing at the men on the dragon.
Apparently at one point the concrete thingy on the left contained tile and was a reflecting pool. The vaguely ship-shaped concrete thingy to the right to the Manaschi mural is supposed to represent The White Ship, one of Aitmatov's works.
The fellow in the central frame is Chingiz Aitmatov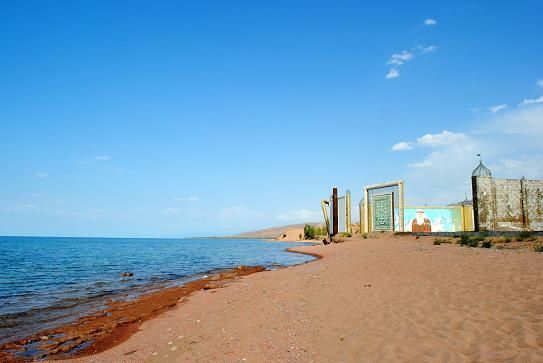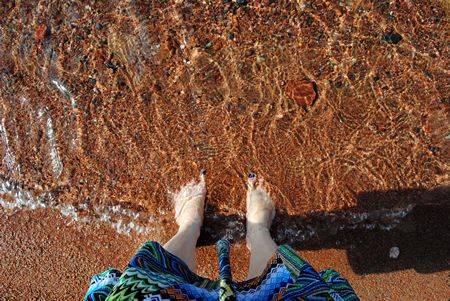 This is about as far as I ever got into Lake Issyk Kul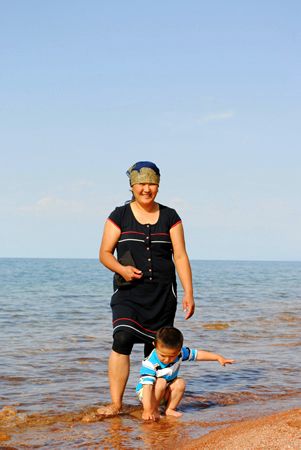 Rakhat and Nurel
Me and Nurel
After exploring the "resort" and wading in the lake, we set off for the hot springs, located in a small, concrete building in the center of the village of Kaji-Sai. In the parking lot outside the concrete shed which housed the thermal waters we ate a picnic of bread, salami, and smoked chicken. Praise the gods! Meat that wasn't sheep! I ate a good bit, and then we went into the hot springs for a swim. Because one should always eat right before swimming. Safety first! NPH.
Having had a hot springs experience in Kyrgyzstan five years ago, I essentially knew what to expect: hot water from a mysterious thermal source, piped into a dank, moldering, concrete pit. This did not disappoint. The "hot springs" consisted of a dank pool into which the thermally heated waters flowed from an ancient blue pipe. The pool was lined with cracked, broke, and in some places missing tile. The concrete walls were covered in black mold and bright green algae. About six or so feet above the water, thick, rusted pipes were suspended horizontally across the pool for no explicable reason. The water itself, however, despite being a rather frighteningly dark color, was warm and pleasant. It also was a tad salty, which made us all quite buoyant. We spent at least an hour, if not more, swimming.
The building in which the Kaji-Sai hot springs are located.
The Kaji-Sai hot springs pool.
As we drove back to Toguz Bulak from Kaji-Sai, the weather changed. All day long it had been in the 80s, but the temperature dropped rapidly, clouds appeared, and rain began to fall. Then, within half an hour of returning home, I developed an upset stomach. I don't know if it was from pigging out on the salami and smoked chicken, from swimming too soon after eating, or from unintentionally ingesting some of the thermal waters – or if it was something else entirely – but I became incredibly nauseated. I managed to make it to dinner time (around 10pm) without puking, but the instant the odor of food reached me, I lost it. Sigh. Needless to say, I was not able to eat dinner (which was unfortunate, as this was a cabbage-centric, not sheep-centric meal). As it was cold and rainy outside, I spent yet another night sleeping with the bucket next to my bed.